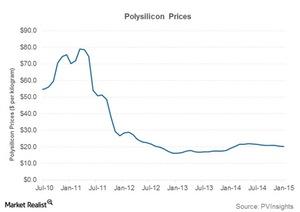 First Solar faces some must-know challenges
Rising competition
Competition in the solar power industry, especially in module manufacturing, is rising. A fall in polysilicon[1. The raw material for crystalline silicon modules] prices in recent years prompted new players to enter the module business and old players to increase their capacities. As a result, there's currently overcapacity in the industry, as we discussed in detail in the Market Realist series Investing in renewable energy: The solar power industry.
Article continues below advertisement
While First Solar (FSLR) has traditionally been manufacturing thin-film CdTe modules, which don't require polysilicon, their prices have also fallen in recent years, as they compete with crystalline silicon modules. As more players integrate vertically, the competition to First Solar's Systems business may increase as well.
Revenue concentration
So far, First Solar's revenue has concentrated among a few customers, primarily in the United States. While a focus on the domestic market has helped the company ward off competition in European and Chinese markets, it has resulted in geographical revenue concentration. As a result, any changes in renewable policies in the US may harm the company. Some solar PV manufacturers (TAN)—like Yingli Green Energy (YGE), Trina Solar (TSL), and JA solar (JASO)—focus on the European and Chinese markets. As we discussed earlier, First Solar is trying to expand geographically to mitigate customer and geographical concentration risk.
Product concentration is another risk for First Solar, as the company earns almost all its revenue in its Components segment through thin-film CdTe solar modules. However, the company has recently entered into crystalline silicon module manufacturing to diversify its product base.
Reduced incentives
Incentives such as tax holidays and subsidies contributed in a big way to the growth of the solar power industry. Europe played a big role in this growth. However, governments in Europe are cutting back on incentives. Since First Solar generates limited revenue from Europe, these measures haven't affected First Solar as much.