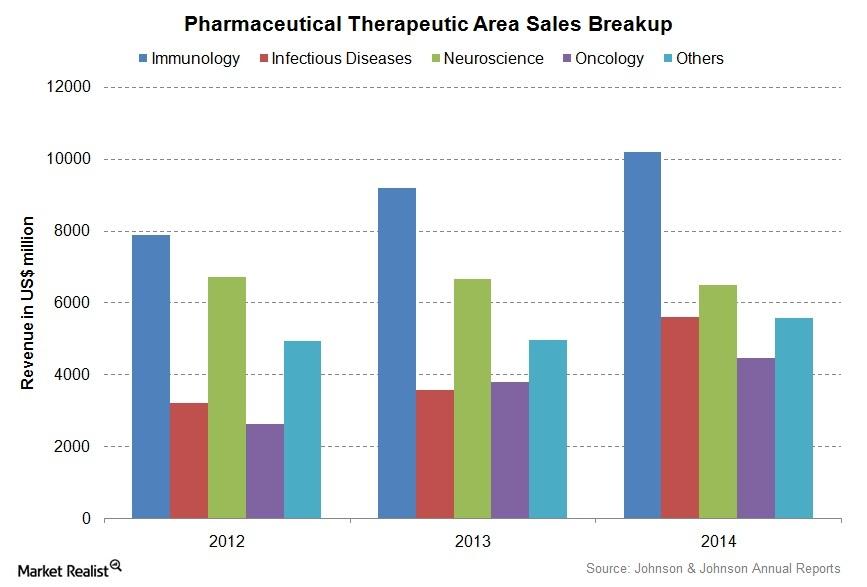 Exploring Johnson & Johnson's Pharmaceuticals Segment
Pharmaceuticals segment
Johnson & Johnson (JNJ) is the largest pharmaceutical company in the US. It's the fastest growing company among the top ten companies globally. The Pharmaceuticals segment contributes over 43% of the company's revenue.
For 2014, the segment generated revenue of about $32.3 billion. This was due to operational growth of 16.5% in worldwide pharmaceutical sales.
The Pharmaceuticals segment is focused on five therapeutic areas including immunology, infectious diseases, neuroscience, oncology, and cardiovascular and metabolic diseases. Over 29 prescription drugs are part of this segment. The segment distributes its products directly to retailers, wholesalers, hospitals, and healthcare professionals for prescription use. The company focuses on research and development in these five therapeutic areas only. It doesn't have any plans to expand into other areas of the Pharmaceuticals segment.
As a percentage of sales, the pre-tax profits for the Pharmaceuticals segment were 36.2% in 2014. This was achieved due to high margin products' strong sales volume growth.
Article continues below advertisement
Article continues below advertisement
Products
Remicade is an immunology drug. It's the largest selling drug in this segment. The drug contributes nearly 9.2% of the company's total revenue. However, the patent for this drug is going to expire in two sets. The first set will expire in 2015 for some of the countries in Europe. The other set will expire in 2018 for the US.
Key contributors from this segment include:
immunology products – including Remicade, Stelara, and Simponi Aria
infectious disease products – including Olysio, Sovraid, and Prezista
oncology products – including Zytiga and a new product called Imbruvica
oral anticoagulant – Xarelto
neuroscience products – including Invega, Sustenna, and Xeplion
Competition