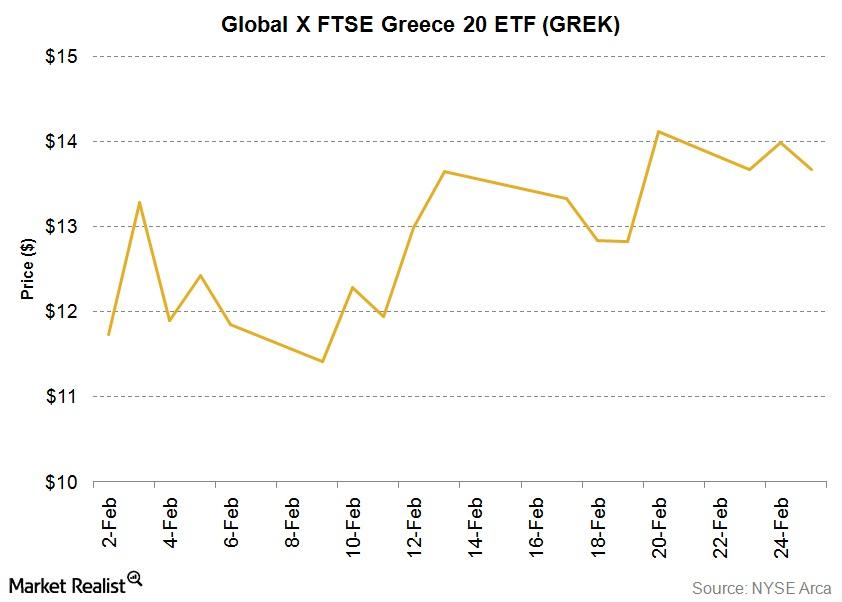 Eurozone grants bailout extension to Greece
The Eurozone approves bailout extension
On Tuesday, February 24, the Eurozone finance ministers approved a four-month extension of Greece's bailout loan term. The approval is good news for investors in Greece.
It's also good news for Greek banks who have been surrounded by fears of running out of money. As we saw in Part 5 of this series, Greek banks have been witnessing a flight of deposits for several weeks.
The Global X FTSE Greece 20 ETF (GREK) welcomed the news and gained 2.3% between February 23 and 24. The GREK invests in Greece equities such as Coca-Cola HBC AG (CCHBF) with an 11.5% allocation and the National Bank of Greece (NBG). CCHBF is partly owned by The Coca-Cola Company (KO). The Coco-Cola Company's key competitor, PepsiCo, Inc. (PEP), also operates in Greece through its subsidiary Tasty Foods S.A.
Europe-tracking iShares MSCI EMU ETF (EZU) and the Vanguard FTSE Europe ETF (VGK) gained 1.8% and 1.5%, respectively, from February 19, a day before the agreement was reached, and February 24, when the bailout extension to Greece was approved.
Article continues below advertisement
Greece must live with austerity for another four months
The Troika is made up of the European Union, the European Commission, and the International Monetary Fund. The Troika laid down a set of austerity measures that Greece must follow in the bailout extension.
Greece's incoming government is strongly opposed to austerity measures on grounds that they impede growth. Greek authorities have recently been at oppposite ends of the issue.
At one end is Greece's cash crunch and Germany's refusal to extend new financial assistance. This has left Greece with no option but to request a bailout extension in order to avoid a run on its banks.
At the other end is Greece's new government. It came to power primarily because of its pledge to free Greece from austerity measures imposed by the Troika. Shaking hands with the Troika could weaken the new government's supporters.
Consequently, Greece decided to live with reformed austerity for another four months.
Greece agrees to list of economic reforms
In the next part of this series, let's take a look at the key economic and structural reforms that helped Greece secure a four-month bailout extension.