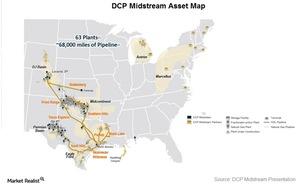 DCP Midstream Partners and Its Three Operating Segments
By Alex Chamberlin

Updated
A snapshot of DCP Midstream Partners
DCP Midstream Partners, LP (DPM) is an energy midstream MLP that gathers, processes, transports, stores, and sells natural gas. In this series, you'll get an overview of DCP Midstream Partners, LP and its operations, including producing, fractionating, transporting, and selling natural gas liquids (or NGLs). The company also engages in transporting propane, a natural gas liquid component, in the wholesale market.
Article continues below advertisement
Partnership and segments
DCP Midstream GP, LP serves as DCP Midstream's (DPM) general partner. DCP Midstream GP, LP is owned by DCP Midstream LLC. DCP Midstream LLC is owned by Phillips 66 (PSX) and Spectra Energy (SE), who each owns 50% of DCP Midstream LLC.
DCP Midstream (DPM), through three operating segments, operates in 35 states in the United States. These segments include the following:
Natural Gas Services
NGL Logistics
Wholesale Propane Logistics
One-year unit price
DCP Midstream is an MLP and thus offers common units, the equivalent of common shares, to its unitholders.
DCP Midstream's (DPM) unit price decreased 24% in the past year. The fall is particularly sharp since the end of October 2014. Since October 29, its unit price has crashed 32%.
In comparison, Williams Partners' (WPZ) unit price decreased ~10% in the past year. Boardwalk Pipeline Partners' (BWP) unit price increased 23%. During the same time, Spectra Energy Partners' (SEP) unit price increased 8.5%. DCP Midstream and Williams Partners together account for 6.75% of the Alerian MLP ETF (AMLP).
In this series, we'll take a look at the assets for each of these segments as well as the key factors that drive business. We'll start with the Natural Gas Services segment in the next section of this series.