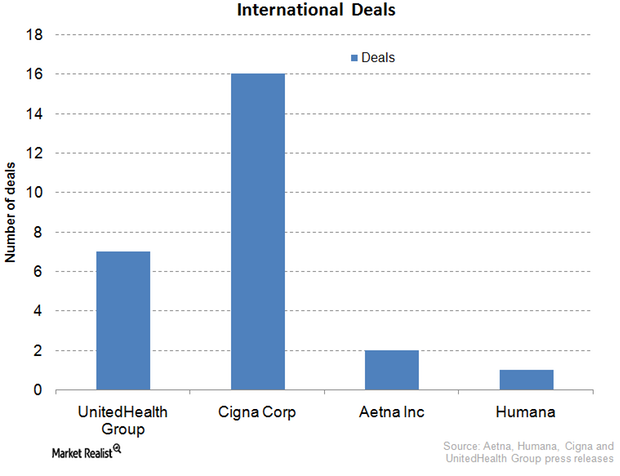 Cigna: International Expansion Key to Growth Strategy
International expansion
The US private health insurance industry has expanded its footprint in international markets. International markets are not as penetrated, and so are less competitive than US markets. Health insurance companies (IYH) are actively pursuing opportunities overseas to earn higher margins than those earned in domestic markets.
The above graph shows that Cigna (CI) and UnitedHealth Group (UNH) lead the private health insurance industry in terms of deal activity in international markets. They're followed by Aetna (AET) and Humana (HUM).
Cigna has inked deals in Turkey, Belgium, the United Kingdom, Brazil, Japan, Taiwan, Thailand, India, and Nigeria. The deals have either been mergers and acquisitions or joint ventures with local insurance companies.
The company offers medical benefits to about 1.3 million people around the globe, especially in Europe, focusing on the needs of local and multinational companies. Cigna also serves the expatriate population settled in other countries through the Cigna Global Health operation.
Article continues below advertisement
Global supplemental benefits
Cigna offers supplemental health, life, and accident coverage to people in Asia, Europe, and the US. South Korea is the single-largest geographic market for Cigna's global supplemental benefits segment.
The company acquires local licenses or enters into partnerships with local counterparts and provides services in about 15 countries and jurisdictions around the world. In 2012, Cigna expanded into Turkey through a joint venture with Finansbank and also expanded into US supplemental insurance business by acquiring Great American Supplemental Benefits. In 2014, the company entered into a joint venture with TTK Group in India. The company's competitive strategy is to provide products based on the local infrastructure, culture, and needs of those in international markets.