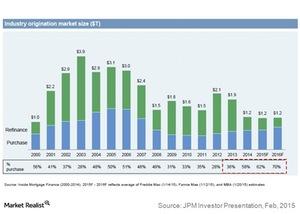 BB&T's Residential Mortgage Banking Segment Faces Headwinds
By Rekha Khandelwal, CFA

Mar. 27 2015, Updated 12:05 p.m. ET
Residential Mortgage Banking segment
BB&T's (BBT) Residential Mortgage Banking segment retains and services mortgage loans originated by the Community Banking segment as well as those purchased from other originators. BB&T generally retains the servicing rights to loans sold. The company believes that retaining mortgage servicing helps establish long-term customer relationships in the retail banking business.
Other banks include Regions Financial (RF) and SunTrust Bank (STI). They also offer mortgage banking services. Together, these three banks form ~4.8% of the SPDR S&P Bank ETF (KBE) and ~2.8% of the iShares U.S. Financial Services ETF (IYG).
Residential Mortgage Banking earns interest on loans held, fee income from the origination and servicing of mortgage loans, and recognizes gains or losses from the sale of mortgage loans.
Article continues below advertisement
Residential mortgage market
There are two activities associated with residential loans—origination and servicing. "Origination" simply means providing new loans. Loan origination covers disbursement. "Servicing" means handling all of the activities after loan origination until the time the loan is repaid, including collecting monthly payments. Often, companies sell the originated mortgages. These are serviced by other companies. Some of the companies—like Ocwen Financial Corp. (OCN)—only specialize in mortgage servicing.
When sold, the originator gets a premium, or discount, based on the interest rate agreed by borrower. The secondary mortgage market is large, complex, and liquid. The mortgage buyers are often called "aggregators." They pool the mortgages and issue them in the form of securitized MBS (mortgage-backed securities).
Challenging market
The mortgage originations market is facing numerous headwinds. You can read more about it in JP Morgan Mortgage Originations Face Headwinds. The above graph shows the mortgage origination industry's market size since 2000. It includes forecasts for the next two years. It shows the decline in industry originations over the last three years.
The dynamics in the originations market also impacted the performance of BB&T's Residential Mortgage Banking segment. We'll discuss this in the next part of this series.