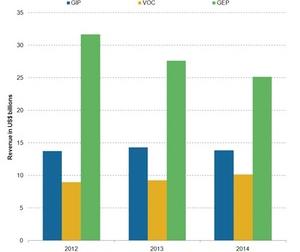 Analyzing Pfizer's Business Segments
By Mike Benson

Updated
Business segments
Pfizer (PFE) is one of the oldest and largest pharmaceutical companies in the US. The company was started as a fine chemicals company. Later, it emerged as a pharmaceutical giant. The company deals in two major segments:
Biopharmaceutical
Consumer Healthcare
Article continues below advertisement
The new structure
Since 2014, the company introduced a new structure for its commercial operations. This structure divides the business into two groups—Innovative Products Business and Established Products Business. The groups are further classified into three business segments.
GIP (Global Innovative Pharmaceutical) segment
GVOC (Global Vaccines, Oncology and Consumer Healthcare) segment
GEP (Global Established Pharmaceuticals) segment
Innovative products business
This group is composed of two operating segments—the GIP segment and the GVOC segment.
The GIP segment is focused on developing, registering, and commercializing value-creating medicines. The therapeutic areas include inflammation, cardiovascular or metabolic, neuroscience and pain, and rare diseases. The leading brands in this segment include Xeljanx, Eliquis, and Lyrica—for the US and Japan. The segment's revenue remained nearly constant for the last three years.
Article continues below advertisement
The GVOC segment is focused on developing and commercializing vaccines, oncology products, and consumer healthcare products. Each business in GVOC operates as a separate global business. Each business has a distinct specialization in terms of the science and market approach necessary to deliver value to consumers. The segment's revenue increased YoY (year-over-year) due to increased sales in oncology and consumer healthcare products.
The products managed by GIP and GVOC are driven by science. They're highly differentiated. Generally, they require a high level of involvement with healthcare providers and consumers.
Established products business
The GEP segment deals with the products that lost or are expected to lose market exclusivity through 2015 in most major markets. These also include the generic pharmaceuticals—or off-patented products, sterile injectable products—like vaccines, and biosimilars—the drug with active properties similar to licensed drug. The segment's revenue decreased compared to the year before. However, the segment's drugs are known for providing effective, low-cost, and high-value treatments to patients.
Pfizer, Merck & Co. (MRK), Johnson & Johnson (JNJ), and Gilead Sciences (GILD) together form over 25% of the Vanguard Health Care ETF (VHT).