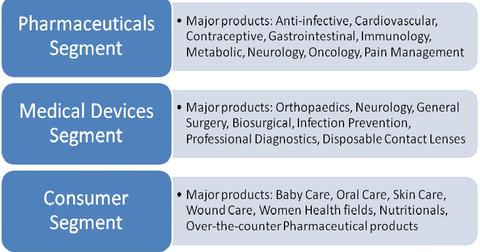 Analyzing Johnson & Johnson's Three Main Business Segments
By Mike Benson

Updated
Business segments
Johnson & Johnson (JNJ) introduced its commercial first aid kits and ready-to-use surgical dressings in the late 1880s. Over a period of 128 years, the company diversified its business into three major business segments:
Pharmaceuticals
Medical Devices and Diagnostics
Consumer Products
Article continues below advertisement
Pharmaceuticals segment
The Pharmaceuticals segment is focused on five therapeutic areas including immunology, infectious diseases, neuroscience, oncology, and cardiovascular and metabolic diseases. Over 29 prescription drugs are part of this segment. The segment distributes its products directly to retailers, wholesalers, hospitals, and healthcare professionals for prescription use.
Medical Devices and Diagnostics segment
The Medical Devices and Diagnostics segment includes products used in the orthopaedic, surgical care, specialty surgery, cardiovascular care, diagnostics, diabetes care, and vision care markets. This segment distributes its products to wholesalers, hospitals, and retailers. The products are mainly used in the professional fields by physicians, nurses, hospitals, and clinics. The company completed the divestiture of its Ortho-Clinical Diagnostics business in June 2014.
Article continues below advertisement
Consumer Products segment
The Consumer Products segment deals with products for baby care, oral care, skin care, wound care, women's health fields, nutritionals, and OTC (over-the-counter) pharmaceutical products. These products are marketed to the general public. They're sold through retail outlets and distributors across the globe.
Johnson & Johnson's structure is based on the principle of decentralized management. Johnson & Johnson's executive committee is the main management group that's responsible for the company's strategic operations and resource allocation. The committee oversees and coordinates the activities of all three of the company's segments.
Johnson & Johnson competes with various local and global companies in all of its major products. However, the most significant competition is for the research and development of new drugs. Other companies include Teva Pharmaceuticals (TEVA), Pfizer (PFE), Merck and Co. (MRK), Boston Scientific (BSX), Stryker (SYK), and Zimmer Holdings (ZMH).
Johnson & Johnson forms about 10.4% of the total assets of the Health Care Select Sector SPDR ETF (XLV).