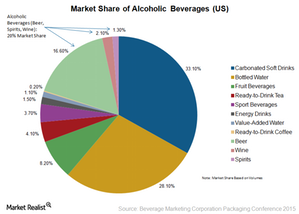 Alcoholic Beverages: A Key Category of the Beverage Industry
Overview
The beverage industry can be classified into nonalcoholic and alcoholic beverage categories. According to Beverage Marketing Corporation, the carbonated soft drink is the key nonalcoholic beverage category with a market share of 33.1% of the total US beverage market volume. Alcoholic beverages, primarily beer, also form a dominant part of the US beverage market.
Article continues below advertisement
Alcoholic beverages, market share
According to the preliminary figures provided by Beverage Marketing Corporation for 2014, alcoholic beverages, including beer, wine, and distilled spirits, account for about 20% of the US beverage market. This compares to 80% market share for nonalcoholic beverages, which includes ready-to-drink tea and coffee, carbonated soft drinks, bottled water, and other categories.
Beverages constitute about 19.6% of the Consumer Staples Select Sector SPDR Fund (XLP).
Know your drink
Alcoholic beverages contain ethanol or ethyl alcohol, which is an intoxicating agent. Alcoholic beverages are classified into the following three categories:
beer, which is brewed primarily from malted barley, hops, yeast, and water
distilled spirits or liquor, which are alcohol products that are first fermented and then distilled
wine, which is an alcoholic beverage made from fermented grape juice or other fruits
Key industry players
The major companies in the alcoholic beverage industry include Anheuser-Busch InBev (BUD) (ABI.BR), Molson Coors Brewing (TAP), SABMiller (SBMRY) (SAB.L), Diageo (DEO) (DGE.L), Boston Beer (SAM), Brown-Forman Corporation (BF.B), Bacardi, Constellation Brands (STZ), Castle Brands (ROX), Heineken (HEINY) (HEIA.AS), and Pernod Ricard (PDRDY) (RI.PA). The iShares Russell 1000 Growth ETF (IWF) has about ~0.28% of its fund allocation invested in Constellation Brands and Brown Forman together.
In this series on the nonalcoholic beverage industry, we'll look at its three categories: beer, wine, and spirits. We'll also look at its distribution system, its performance in the US market, and trends in the industry.