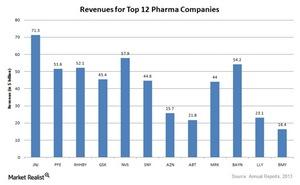 What it takes to be called 'big pharma'
Dividing the industry in two
Companies in the pharmaceutical industry can be classified into one of two segments based on size and market reach. One segment is called "big pharma" and consists of market leaders in the industry. The other consists of small- and medium-sized players.
The chart above shows the top twelve pharmaceutical companies based on 2013 revenues. Out of the twelve, six companies are headquartered in the United States.
Article continues below advertisement
Pharmaceutical companies either deal with patented drugs, generic drugs, or both. Most big pharma companies deal with both. Meanwhile, the majority of revenues are generated from the sale of patented drugs. The global pharmaceutical industry reported total revenues of $980.1 billion in 2013. Of this, approximately 41% was generated in North America (US and Canada) and 27.4% in Europe.
Differences between big pharma and other companies
These are the key features that distinguish big pharma from other pharmaceutical companies:
exclusive research and development centers
patented products*
market reach
economies of scale
diversified bouquet of products
(*Patented products may also be found in mid-size and small pharmaceutical companies.)
Revenues derived from the sale of patented products make up over 70% of big pharma's total drug sale revenues. This is why companies spend around 20% of revenues each year on research and development, or R&D, of new drugs. Companies try to fetch maximum returns from a patented drug while its patent is valid. Once the drug is off patent, its price falls to 10%–15% of its original cost.
Big pharma companies have manufacturing units and R&D centers located in multiple countries, as well as wide distribution networks around the world.
Big pharma companies Johnson & Johnson (JNJ), Pfizer (PFE), Merck and Company (MRK), and Gilead Sciences (GILD) together form 30.34% of the Health Care Select Sector SPDR Fund (XLV).