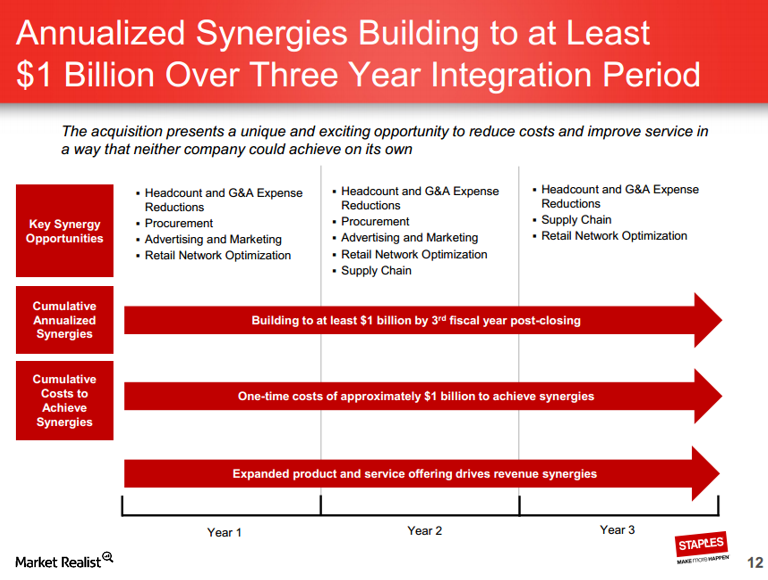 The Office Depot–Staples merger is about cost savings
The landscape is changing
When Staples (SPLS) and Office Depot (ODP) first attempted to merge in 1997, the office superstore concept was still relatively new, and Internet shopping was in its infancy. Today, there are many more competitors in the market, especially as Amazon.com (AMZN) rolls out its business-to-business product.
While OfficeMax is now part of Office Depot, privately held WB Mason is still a big competitor. Target (TGT) and Walmart (WMT) also compete in this space. Office Depot has struggled to compete in this environment, and Staples is having a tough time as well.
Article continues below advertisement
Article continues below advertisement
The deal is about synergies
The term "synergies" is usually a euphemism for "firing people." This deal is all about synergies. The company expects to achieve these synergies through headcount reduction, general and administrative expense reduction, efficiencies in purchasing, marketing, supply chain management, and store closings.
Note that management identified some revenue synergies from the transaction. Revenue synergies are extremely difficult to identify and are often used to sell a deal when the buyer's shareholders think they are overpaying. While there is no Staples shareholder vote, the company is clearly sensitive to charges that they are overpaying.
Management comments on the deal
"This is a transformational acquisition which enables Staples to provide more value to customers, and more effectively compete in a rapidly evolving competitive environment," said Ron Sargent, Staples' chairman and chief executive officer. "We expect to recognize at least $1 billion of synergies as we aggressively reduce global expenses and optimize our retail footprint. These savings will dramatically accelerate our strategic reinvention, which is focused on driving growth in our delivery businesses and in categories beyond office supplies."
Other merger arbitrage resources