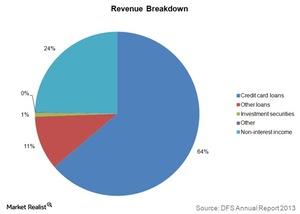 What investors should know about Discover Financial Services
Business overview
Discover Financial Services (DFS) is a direct bank and electronic payment services company in the US. The company is most known for its "Discover it" card. It offers an array of banking products—like home loans, private student loans, personal loans, home equity loans, checking and savings accounts, certificates of deposit, and money market accounts.
It operates PULSE ATM or debit networks, Discover Network, and Diners Club International.
Article continues below advertisement
The Discover Network is a payment card transaction processing network for Discover-branded and network partners' cards. PULSE operates an electronic funds transfer network. It provides financial institutions with access to ATMs globally. It also offers access to point-of-sale terminals at retail locations throughout the US. Diners Club is a global payment network that issues Diner Club-branded cards. It provides card acceptance services.
We'll discuss Discover's businesses in more detail in the next part of this series.
Revenue breakdown
The above chart provides a breakdown of Discover's interest and non-interest income. More than 75% of the income is interest income. It's mainly contributed by card loans. Discover forms ~0.9% of the Financial Select Sector SPDR ETF (XLF).
Competition
In spending networks, other companies include Visa (V), MasterCard (MA), and American Express (AXP). Compared to these companies that have been in business a long time, Discover is a relatively new entrant. In a short amount of time, Discover acquired ~6% of the spending networks' volume in the US. The above graph shows the breakup of spending network volume captured by various players in the US.
Among credit card issuers, Discover competes with large banks including JPMorgan Chase (JPM), Citigroup (C), Bank of America (BAC), and Capital One (COF). It captures ~5% of the US credit purchase volume, as shown in the above graph. American Express, just like Discover, operates spending networks. It also issues its own cards. It's a direct competitor in both of the spaces.
This series discusses Discover's 4Q14 earnings, why its revenue and net income declined in the quarter, and the key points in the earnings. How did the shares perform after the earnings? Historically, how did Discover stock performed compared to its peers?
In this series, we'll also look at the long-term fundamentals of the stock. We'll discuss the stock's factors to watch going forward. First, we'll take a look at Discover's various businesses.