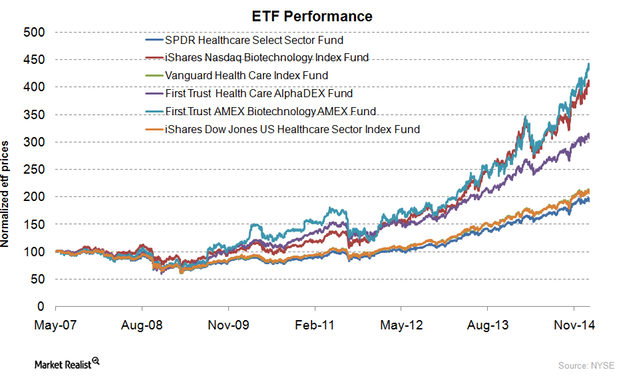 Why should you invest in healthcare ETFs?
Exchange-traded funds
An exchange-traded fund (or ETF) is a security that combines the advantages of a common stock and an index fund. An ETF tracks the performance of an index, commodity, or basket of assets like an index fund. It trades like a stock on an exchange. An ETF provides the diversification benefit of an index fund and also the trading benefits associated with common stocks.
Article continues below advertisement
Article continues below advertisement
Healthcare ETFs
Following the Affordable Care Act (or ACA), the healthcare industry has witnessed a solid growth trajectory both in the health provider and health insurance sectors. With the ACA introducing various reforms to make insurance plans accessible and affordable, a Gallup poll states that the uninsured rate has dropped from 17.1% in 2013 to 12.9% in 2014. The increase in the insured population has also led to an addition of 1 million jobs in the healthcare industry since March 2010. This is a substantial addition when compared to the 7.7 million jobs added to the entire economy in the same timeframe. Increasing demand, coupled with increasing capacity, ensures overall healthy profits for the healthcare industry.
The above graph shows that the most-traded ETF, the SPDR Health Care Select Sector Fund (XLV), has given the lowest returns, while the First Trust AMEX Biotechnology AMEX Fund has realized the highest returns from 2007 to 2015. This variation is due mainly to the difference in risk and return characteristics of the two funds' portfolios. The SPDR Health Care Select sector fund mainly invests in big, stable pharmaceutical companies such as Johnson & Johnson (JNJ), Pfizer (PFE), Merck & Co. (MRK), and leading hospital company Universal Health Services (UHS), each accounting for 11.23%, 7.53%, 6.21%, and 3.75%, respectively, of the fund's total value. These companies have a diversified business model and generally realize decent returns resulting from low risk business mix.
Biotechnology funds have generally performed better than the other healthcare ETFs, as these funds invest in companies that use biological processes to produce medical products and services. Biotechnology is considered a high-risk, high-gain investment, as a successful product usually leads to high profits but the research process also involves very high risk of failure.