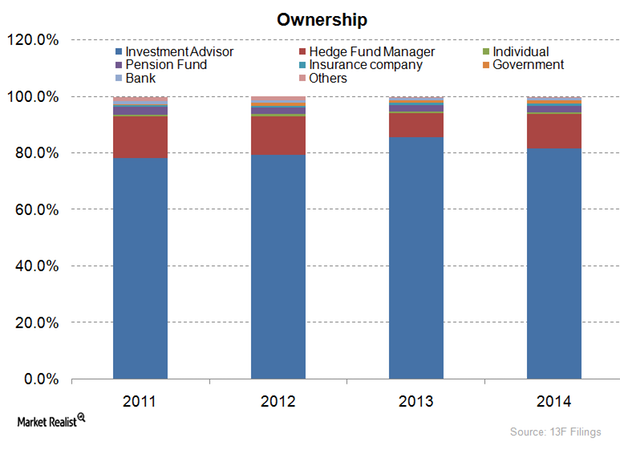 Most Humana stakeholders are mutual funds or advisers
Health insurance stakeholders
The health insurance industry (XLV) was one of the leading performers in 2014. As a result, institutional investors invested heavily in private health insurance companies such as Aetna (AET), Humana (HUM), Cigna (CI), and UnitedHealth Group (UNH).
Article continues below advertisement
Institutional shareholding
The above graph shows Humana's ownership structure from 2011 to 2014. The ownership structure is dominated by investment advisers or mutual funds, accounting for about 81.7% of the total ownership picture. JP Morgan Chase & Co, Capital World Investors, T. Rowe Price Associates, and Vanguard Group are the leading mutual funds in the company. Hedge funds account for about 12.2% of Humana's ownership, and pension funds, banks, and government combined hold 4.5% of the company's shares.
The graph shows that institutional interest in Humana increased from 78.4% in 2011 to 85.7% in 2013 but declined to 81.7% by the end of 2014. Institutional investors are in contact with company management and employ trained analysts and researchers to assess the company outlook. A decline in institutional investments could signal an uncertain future outlook for the company.
Hedge funds
Hedge fund trading movement is one of the innovative metrics used to analyze publicly traded companies. By the end of the first quarter of 2013, Humana was a part of 36 hedge fund portfolios, a significant reduction from the 43 fund portfolios it was part of during the first quarter of 2012. This was mainly on account of a market that expected more sick, old people to benefit from the Affordable Care Act than young, healthy individuals.
Now that health insurance companies have posted solid results in 2013 and 2014, hedge fund managers are correcting their risk estimates, which is leading to a renewed interest in health insurance stocks.