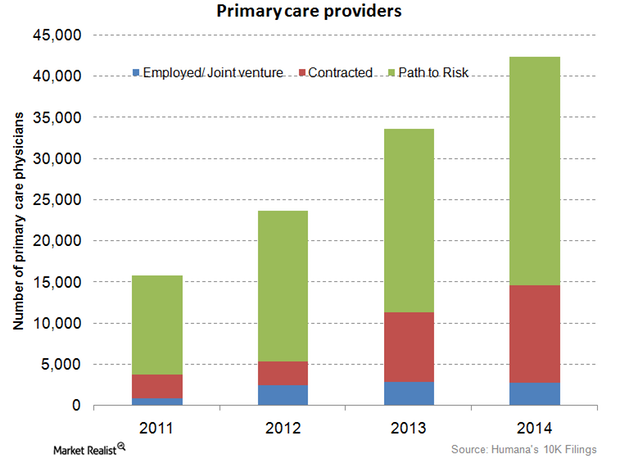 Humana employs and contracts more primary-care physicians in 4Q14
Primary care physicians
Managed care organizations, an integral part of the US healthcare industry (XLV), were established to improve the quality of care and reduce the cost of providing health benefits. These organizations provide health plans such as HMO (health maintenance organization), PPO (preferred provider organization), and POS (point of service) plans. These plans vary in claim reimbursement conditions and medical utilization management.
Article continues below advertisement
The above graph shows Humana's (HUM) payment arrangements with PCPs (primary-care physicians) working with the company. With Humana earning the majority of its revenues from HMO plans, these physicians become more important. In addition to providing basic medical treatment, they also perform a gatekeeping function for HMO (health maintenance organization) enrollees.
An HMO enrollee can seek medical treatment from a specialist doctor only if the primary care practitioner approves the use, helping control excessive use of costly specialized services.
Employed and contracted PCPs
Managed care organizations such as Humana, Aetna (AET), Cigna (CI), and UnitedHealth Group (UNH) share medical utilization risk with employed and contracted PCPs. Humana's employed and contracted primary-care physicians rose by 29.2% from 11,300 in 2013 to 14,600 in 2014.
Humana pays these physicians on a capitation basis, which involves the insurer paying a fixed amount per patient to the PCP. This approach transfers the entire risk of patient treatment to physicians, as the funds paid by the insurer remain fixed and don't vary with the PCPs' expenses on medical services.
Path to risk
Path-to-risk PCPs are also paid on a capitation basis, but they don't share downside risk or the risk that medical utilization exceeds the payment received. However, these physicians can qualify for bonus payments as a reward for quality services. Humana's path-to-risk PCPs rose by 24.2% from 22,300 in 2013 to 27,700 in 2014. The company is trying to shift the majority of its PCPs from path-to-risk to full-risk arrangements, leading to lower risk for the company.