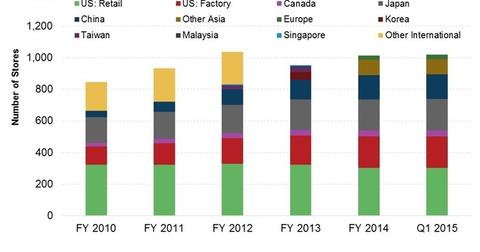 Why Europe Is A Long-Term Opportunity For Coach
By Phalguni Soni

Feb. 6 2015, Updated 2:05 p.m. ET
Coach in Europe
It's especially important for luxury brands like Coach (COH) to have a presence in Europe. Chinese shoppers are consummate spenders on luxury goods on overseas trips, which benefits brands like Prada (1913.HK), Gucci, Salvatore Ferragamo (SFRGF), and Burberry (BURBY), among others. Coach projects total outbound tourism from China to double from 100 million in 2014 to 200 million by 2019.
In another positive, the growth in affordable luxury brands has been outpacing more premium brands in Europe for several years now. This is a big positive for companies like Coach (COH), Michael Kors (KORS), and Kate Spade (KATE). The company aims to achieve over $0.5 billion in sales at retail in Europe, representing a mid-single-digit share of the premium men's and women's bag and accessories market in the near future.
Article continues below advertisement
Second quarter results
Coach reported double-digit growth in revenues for Europe in 2Q15, due in part to growth in same-store sales and a wider distribution footprint. The company plans to add 10 directly operated stores and more than 100 wholesale locations in fiscal 2015.
Despite positive demand trends, Coach has revised its full-year revenue guidance downwards for Europe in fiscal 2015, from $100 million to $90 million, due to the appreciating US dollar versus the euro.
At the present moment, the revenues generated from Europe are too small to significantly impact the bottom line for Coach. Any revenue gains in the near term are likely to be swallowed up by US dollar appreciation. Growth in reported revenues may not come until fiscal 2016.