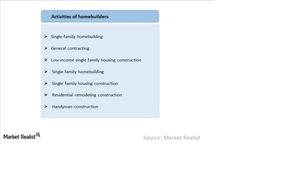 The basics of the US homebuilding industry for investors
What do homebuilders do?
Operators in the homebuilding industry are responsible for the construction of new homes. They primarily construct single-family homes, where units are separated by ground-to-roof walls, with no units above or below. The industry also includes the remodeling of houses and other residential buildings. Industry operators are general contractors, design-and-build companies, and single-family construction management firms acting as general contractors and builders. The industry doesn't include speculative builders or contractors that build on their own account for sale.
Article continues below advertisement
Operating model
The homebuilding industry in the US comprises many large, publicly traded residential construction companies. The top homebuilders mainly focus on specific categories. Each major player has created its own niche segment or is in the process of creating its niche segment. Some companies cater to the affluent market, providing luxury homes. Others focus strictly on the entry-level category, where buyers heavily base their purchase decision on their ability to secure affordable financing.
Most homebuilders concentrate on the first-time segment, as it's one of the most appealing businesses for them. A first-time buyer is defined by the Federal Housing Authority (or FHA) as anyone who hasn't owned a home for three years. Single parents and displaced homemakers who owned or resided in a home with a spouse during the last three years are also first-time homebuyers. For the first-time segment, the average home price is modestly higher than that of an entry-level model.
Though most companies adhere to their core business model, others—such as Lennar (LEN)—also provide financial services. From a strategic standpoint, all builders—including KB Home (KBH), PulteGroup (PHM), and Standard Pacific—generally adhere to a similar operating model that centers on land purchases and construction activity. Homebuilders' operating model is of paramount importance for the investment strategies of homebuilder ETFs such as the iShares Dow Jones US Home Construction Index Fund (ITB) and the SPDR S&P Homebuilders ETF (XHB).