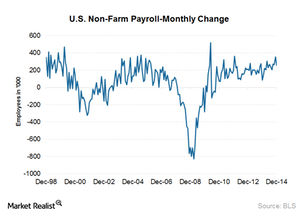 How US labor conditions impact gold investors
By Anuradha Garg

Dec. 4 2020, Updated 10:53 a.m. ET
The importance of jobs data
The Fed assesses jobs data to determine whether the economy is strong enough to withstand higher interest rates. The Federal Reserve noted that a range of labor market indicators suggests that the underutilization of labor resources is gradually diminishing.
Let's analyze the major labor market indicators that investors should keep an eye on in order to form a view about the overall jobs market in the United States.
Article continues below advertisement
Unemployment rate declines
Strong employment rates signal strong economic growth prospects. Recent US labor market data have been quite positive. The unemployment rate declined to 5.6% from 5.8% earlier. This gets the Fed closer to its year-end 2015 target of 5.2% to 5.3%.
Nonfarm payroll above expectations
The nonfarm payroll (or NFP) shows the number of jobs added or lost each month. The NFP increased by 252,000 in December compared to a strong 353,000 in November. Although this number is low compared to November, it's above the consensus estimates of 241,000.
Article continues below advertisement
Wage growth lackluster
Wage growth is another crucial job market indicator. Average hourly earnings dipped 0.2% sequentially in December, and November average hourly earnings were adjusted down to a 0.2% increase. On a year-over-year basis, average hourly earnings in December were up 1.7%. The labor force participation rate continued to plummet to a fresh 37-year low of 62.7%.
The above numbers show improving labor market prospects, but one troublesome sign remains the subdued wage growth. Wage growth along with inflation has to increase sustainably in order for the Fed to consider a rate hike.
It's important to keep an eye on this information since it offers a look at the future direction of gold prices and ultimately gold-backed ETFs such as the SPDR Gold Shares (GLD). Other affected investments include Goldcorp (GG), Barrick Gold Corporation (ABX), Newmont Mining Corporation (NEM), and Kinross Gold Corporation (KGC). Gold prices also affect ETFs that invest in the above stocks, such as the Gold Miners ETF (GDX).