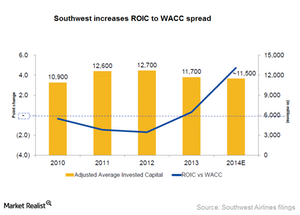 Southwest records highest return on invested capital since 1981
Meets ROIC target of 15%
Southwest Airlines (LUV) exceeded its return on invested capital (or ROIC) target of 15% for the first time in 2014. The pre-tax ROIC excluding special items of 21.2% was the highest since 1981. Even the spread between Southwest's ROIC and weighted average cost of capital (or WACC) increased, reflecting the increasing economic profits.
In this article, we'll learn about the Southwest's strategic initiatives that contribute to the company's long-term growth in network and customer base, as well as improvement in its efficiency and profitability. These include the AirTran acquisition and integration, fleet modernization, the all-new Rapid Rewards program and, most importantly, the development of international capabilities.
Article continues below advertisement
Factors contributing to higher ROIC
Southwest's operating income increased by 60%, while its average invested capital decreased by ~1%. This resulted in an 8.1% improvement in ROIC from 13.1% in 2013 to 21.2% in 2014. Southwest's operating margin was more than double that of Delta Air Lines's (DAL) 5.5% and United Continental Holdings's (UAL) 6.1%, but lower than Alaska Air Group's (ALK) 17.9%. Higher margins lead to share price appreciation and higher returns for ETFs investors, including the iShares Transportation Average ETF (IYT) and the SPDR S&P Transportation ETF (XTN).
AirTran acquisition
The synergy from the AirTran acquisition and integration, which amounted to $500 million during the year, contributed significantly to Southwest's ROIC. Apart from an expansion in network coverage from 72 cities to 93 cities, the acquisition allowed Southwest to launch international flights and extend Southwest's cargo network.
International markets
With the entry into international markets, Southwest's growth prospects improved substantially, more than doubling its share price. Southwest's loyalty program contributed $600 million in incremental revenue since the launch of the program, with over 50% growth in membership and 70% growth in partners.
Southwest's fleet modernization initiatives should have long-term benefits, contributing $300 million to its 2013 operating income. This initiative is expected to add $500 million in 2014 and $700 million in 2015.