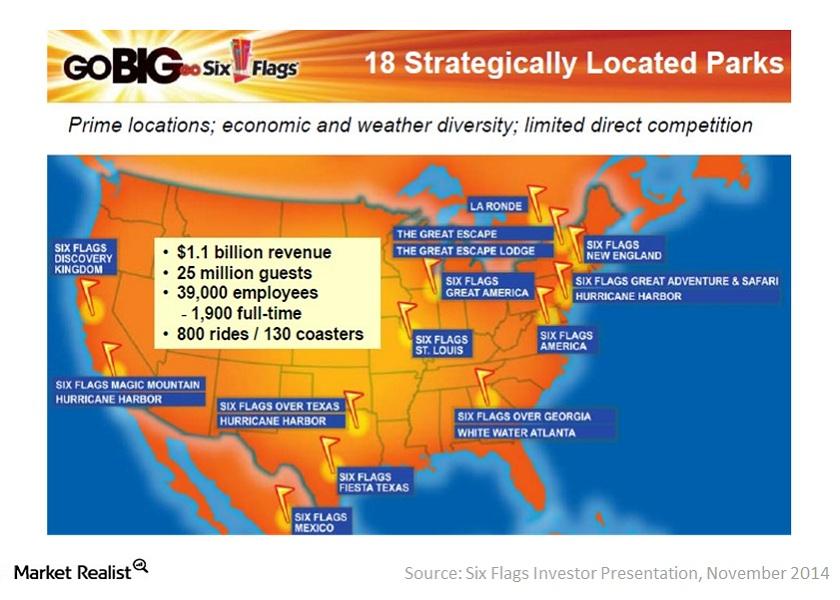 Six Flags Entertainment: An overview of the largest theme park
A business overview
Founded in 1961, Six Flags Entertainment Corp. (SIX) is the world's largest regional theme park company with $1.1 billion in revenue and 18 parks across North America. Six Flags operates 16 parks in the United States, one in Mexico City, and one in Montreal, Canada. Cedar Fair (FUN) and SeaWorld Entertainment (SEAS) own and operate 11 theme parks each, and The Walt Disney Company (DIS) has four theme parks in addition to other water parks and resorts.
Investors can hold a diversified portfolio in leisure companies by investing in ETFs such as the iShares U.S. Consumer Services (IYC) and the Vanguard Consumer Discretionary Index Fund (VCR).
Six Flags owns and operates regional theme, water, and zoological parks. It offers coasters, themed rides, water parks, and attractions. The above map shows the location of Six Flags parks in North America.
Article continues below advertisement
Article continues below advertisement
Six Flags' reach
Six Flags' diversified portfolio of North American theme parks caters to 100 million people and 175 million people within a radius of 50 miles and 100 miles, respectively.
Six Flags (SIX) is also involved in the development of Six Flags–branded theme parks outside North America, which we'll discuss later in this series.
In this series, we'll look at the following aspects of Six Flags Entertainment Corp. (SIX):
how Six Flags generates its revenues
why Six Flags is profitable
why Six Flags is focusing on improving ticket yields
why Six Flags' operating cash flow is prone to fluctuations
why Six Flags is returning capital to its shareholders
why Six Flags is expanding beyond America
what Six Flags' leverage ratios are
what Six Flags' share price performance looks like since bankruptcy recovery
why Six Flags could be a good bet