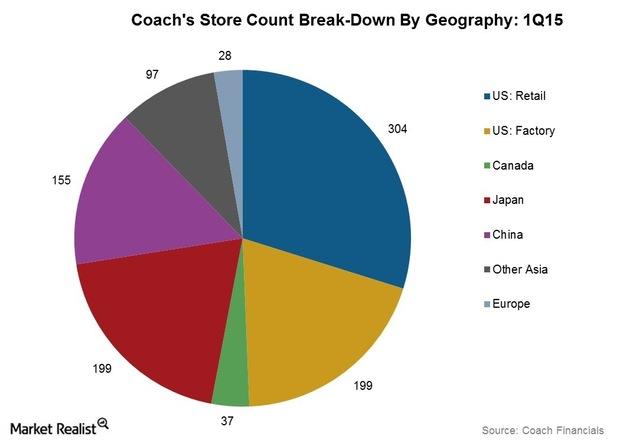 Selling Channels: How Coach Products Reach Customers
By Phalguni Soni

Jan. 19 2015, Updated 8:51 a.m. ET
Coach's selling channels
Coach, Inc. (COH) distributes products through wholesale and direct-to-customer channels. In North America, wholesale channels primarily include shops-within-shops, at major department stores including Macy's (M), Nordstrom (JWN), and Dillard's (DDS).
All three of these department stores are part of the SPDR S&P Retail ETF (XRT) and the First Trust Consumer Discretionary AlphaDEX Fund (FXD).
Coach runs its own shops-within-shops. Furnishings and fixtures at these shops-within-shops are owned by Coach. Department stores such as Macy's also offer Coach's products through their websites, separately from Coach's own e-commerce websites. In North America, there are ~1,000 wholesale Coach locations.
Article continues below advertisement
International strategy
In international markets, the wholesale channel include sales to other retail customers and distributors in 35 countries.
Coach's expansion strategy in international markets involves an initial joint venture or distribution arrangement with local partners. Subsequently, the company aims to buyout its business partner's shares in order to grow market share more aggressively and maintain control over its brand. The company has applied this strategy in Japan, South Korea, Hong Kong, Macau, and Mainland China, Germany, Portugal, Spain, and the United Kingdom, among other countries.
Retail stores and factory outlets
These include revenues earned from retail stores owned by Coach (COH) in both North America and overseas. Aside from retail stores, Coach also operates factory outlets in the US and Canada. While retail stores are situated in metropolitan areas and regional malls, factory outlets are located in geographic areas at least 30 miles from major markets.
Coach also owns several flagship stores at highly visible locations in larger cities including New York City, Beverly Hills, San Francisco, Toronto, Tokyo, Shanghai, Hong Kong, and London, among others. These stores stock the full assortment of Coach products.
Article continues below advertisement
Worldwide, store count stood at 1,019 stores as at the end of 1Q15.[1. Fiscal year ending June 30, 2015, quarter ending September 27, 2014] These consisted of 812 retail stores and 207 factory outlets. Factory outlets are double the size of retail stores, averaging ~5.400 square feet compared to 2,000–2,700 square feet for retail stores.
Square footage
Square footage stood at 2.9 million square feet by the end of fiscal 2014. This included ~1.8 million and ~1.1 million square feet for retail (XRT) stores and factory outlets, respectively. In comparison, worldwide square footage for newer rivals Michael Kors (KORS) and Kate Spade (KATE) stood at 944,000 and 678,000, respectively.
Article continues below advertisement
Licensing revenues
As discussed previously in this series, Coach has several licensing deals for watches, shoes, eyewear, and fragrances. These products are available through any of the above-mentioned channels. Licensees may also sell Coach products through other channels, with the company's permission.
Other locations where Coach products are available include duty-free shops and specialty stores.
E-commerce sales
E-commerce has been an important growth driver for Coach. We'll discuss the company's e-commerce sales and initiatives in Part 10 of this series.