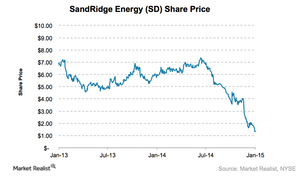 TPG-Axon reduces stake in SandRidge Energy
By Diana Key

Jan. 15 2015, Updated 8:55 a.m. ET
TPG-Axon and SandRidge Energy
TPG-Axon reduced its stake in SandRidge Energy (SD) in its 13F filing quarter ending September 2014. The stock accounts for 11.52% of the total portfolio, down from 13.88% of the fund's 2Q14 portfolio. In December 2014, TPG-Axon reduced its SandRidge stake further in its 13D/A and 13G filings.
TPG-Axon owned more than 39 million SandRidge shares at the end of the third quarter. Currently, the fund owns about 32 million shares, or 6.5% of the company.
Article continues below advertisement
About SandRidge
SandRidge Energy is an oil and natural gas company with exploration and production activities in the Mid-Continent region of the US. The company also operates businesses and infrastructure systems, including gas gathering and processing facilities, marketing operations, a saltwater gathering system, an electrical transmission system, and a drilling and related oil field services business.
SandRidge restated 3Q14 earnings
SandRidge released its earnings for 3Q14 in November 2014. However, the US Securities and Exchange Commission (or SEC) asked it to reassess penalties paid under an agreement with Occidental Petroleum Corp. SandRidge is required to pay a penalty fee to Occidental when SandRidge misses its minimum required carbon-delivery volume targets.
Article continues below advertisement
SD shares up 15% after updated earnings release
On January 8, 2015, SandRidge updated its 3Q14 results. SD shares rose 15% the day after SandRidge released 3Q14 financial results, complementing operational results reported in November 2014. SD shares declined 78% in the past 12 months and 67% in the past three months.
TPG-Axon's notable positions traded in 3Q14
TPG-Axon started new positions in Alibaba Group Holding (BABA), Zynga (ZNGA), and Allison Transmission Holdings (ALSN). It raised positions in GNC Holdings (GNC) and Monsanto (MON). It exited positions in Time Warner (TWX) and Equinix (EQIX). TPG-Axon lowered its positions in SandRidge Energy Inc. (SD).
In the next part of this series, we will discuss SandRidge Energy in more detail.