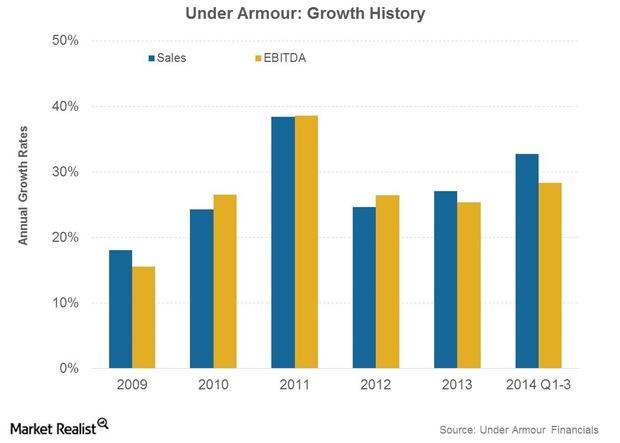 Where NIKE And Under Armour Win In The Market Share Stakes
By Phalguni Soni

Jan. 26 2021, Updated 11:15 p.m. ET
Growing revenues and earnings
As we saw in the previous article, revenues and earnings in the first nine months of 2014 were primarily spurred by market share gains in the US, Under Armour's (UA) biggest market. US saw gains in both apparel and footwear. Under Armour's share of the apparel market rose from 14% to 16%, year-over-year, in the first nine months of 2014. NIKE's (NKE) share of the sportswear market increased by 4%, from 27% to 31% through September 27, 2014.
Other brands expanding share in apparel included VF Corp's (VFC) The North Face. The $2 billion brand's share rose from 6% to 7%. For more on The North Face's current and future growth prospects, please read Making It To VF Corp.'s $2-Billion Brand Club.
Article continues below advertisement
Footwear gains
In the $21.2 billion US footwear market, market share gains were more modest. UA captured an additional 1% share of the market, rising 2% to 3% year-over-year. Plus, market leader NIKE (NKE) expanded its share of the US footwear market from 57% to 60% in the first nine months of 2014.
NIKE is one of the elite 30 stocks comprising the Dow Jones Industrial Average. NIKE makes up 3.43% of the portfolio holdings of the SPDR Dow Jones Industrial Average ETF (DIA) that tracks the Index.
Other brands gaining market share in footwear included Skechers (SKX), whose shares rose from 3% to 4%.
In both apparel and footwear, NIKE's and Under Armour's gains came at the expense of Adidas (ADDYY), which lost ~2% market share in both categories. However, UA has a lot of catching up to do, especially in footwear. Global brands like NIKE (NKE), Adidas (ADDYY), VF Corp (VFC), and PUMA (PMMAF) are well established.