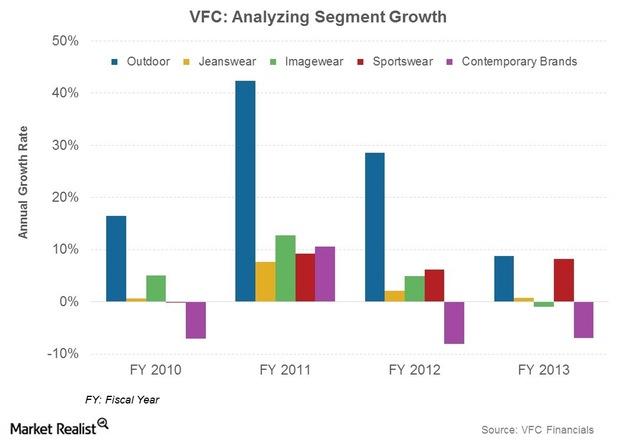 Making It To VF Corp.'s $2-Billion Brand Club
By Phalguni Soni

Feb. 13 2015, Updated 9:05 a.m. ET
All segments aren't created equal
VF Corporation (VFC) reports revenues by six major segments. The Outdoor & Action Sports coalition is the largest, accounting for almost 56% of revenues, or $6.4 billion in 2013. This segment includes three of VFC's biggest brands, specifically The North Face, Vans, and Timberland. These brands are also growing at a fast pace. The segment's contribution to total revenues is expected to touch 66% by 2017, or $11.1 billion.
Article continues below advertisement
The North Face
The North Face became VFC's first brand to achieve $2 billion in sales in 2013. The brand's products include high-performance outdoor apparel, footwear, and equipment, especially for extremely cold conditions, including the Arctic and Antarctica. The company expects to grow at a CAGR (compounded annual growth rate) of 12% from 2012 to 2017 to touch $3.3 billion in revenues in 2017.
Market share gains
The North Face also gained market share last year. Its share of the sports apparel market rose from 6% to 7% in the first nine months of 2014, compared to 2013. In comparison, industry peers NIKE (NKE) and Under Armour (UA) also gained market share. NIKE's share rose from 27% to 31%, while UA expanded its share from 14% to 16%[1. Through September 27, 2014; Source: SportsOneSource].
VFC, NKE, and UA are part of the SPDR S&P 500 ETF (SPY) and the iShares Core S&P 500 ETF (IVV). As S&P 500 Index components, they make up 0.14%, 0.37%, and 0.06% of both SPY's and IVV's holdings, respectively.
Article continues below advertisement
Vans
The Vans brand specializes in action sports–inspired footwear and apparel. Its revenues surpassed $1.7 billion in 2013. Growing in the mid-high teens rate in 3Q14, Vans recorded its 20th consecutive quarter of double-digit revenue growth.
Revenues are expected to cross the $2-billion mark in 2014. This would make it VFC's second $2-billion brand. More importantly, growth in Vans will improve margins for VFC. Revenues in the direct-to-consumer channel grew at about double the pace of wholesale in 3Q14.
Timberland
As mentioned in the previous article, VFC acquired Timberland for $2 billion in 2011. Timberland is known for its rugged work clothes, outerwear, and boots. In 2010, before the acquisition, the brand reported revenues of $1.4 billion.
VFC rebooted the brand in 2013. Revenues for Timberland are expected to come in at ~$1.7 billion in 2014, or 14% of total revenues. Timberland reported revenue growth of 15% in 3Q14, the latest quarter.
The company expects to add $1.4 billion in incremental revenues to the brand by 2019, taking revenues to $3.1 billion. Better still, due to the higher D2C mix and shift toward the full-pricing model, operating margins would go up from 13% to 18%, providing upside to shareholders.