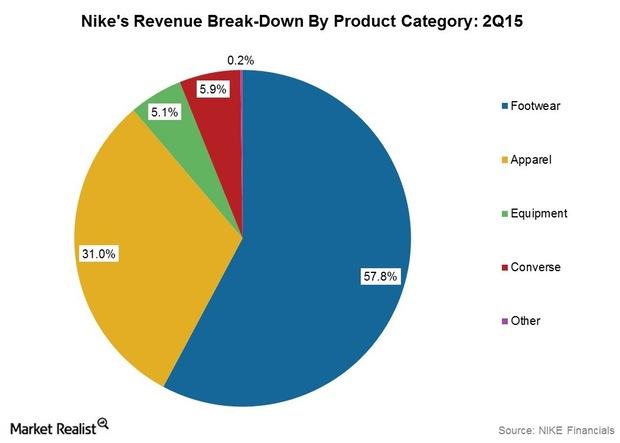 Market Share Gain Spurs NIKE's North American Footwear Revenues
NIKE's product portfolio
NIKE (NKE) reports product revenues according to five major categories:
Footwear
Apparel
Equipment
Converse
Global brand revenues
Article continues below advertisement
Article continues below advertisement
Footwear market leadership
NIKE is the world's market leader in athletic footwear with a 33.6% market share.[1. Merrill Lynch, ADP Group estimates] NIKE's history of innovation began with the manufacture of footwear in the 1960s. Today, this remains the company's largest product category. Footwear sales worldwide came in at $4.3 billion, or 57.8% of total revenues, in 2Q15.[2. Fiscal year ending May 31, 2015]
North American market
North America is NIKE's largest footwear market. More than that, it's where popular brands and footwear models become the trendsetters that later find their way to other NIKE markets. The North American market accounted for 45% of footwear revenues, or $1.9 billion in 2Q15.
Market share gains
The size of the overall US athletic footwear market is estimated to be $21.2 billion in 2014.[3. National Sporting Goods Association]
In the US, in 2014 year-to-date, NIKE, Converse, and the Jordan brands combined accounted for over 60% of market share in athletic footwear. That's up from 35% in 2005 and 57% in 2013. Most gains came at the expense of global rival Adidas (ADDYY), which lost 2% share. Under Armour's (UA) market share of footwear products, meanwhile, rose by 1% to 3% in that time frame. Skechers USA (SKX), too, expanded its share of the footwear market, from 3% to 4% over the period.[3. Up to September 27, 2014. SportsOneSource]
NIKE is part of the SPDR Dow Jones Industrial Average ETF (DIA).