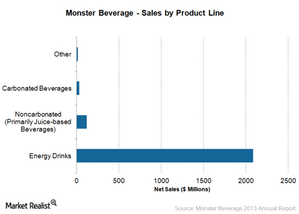 Monster Beverage's extensive line of energy drinks
Product portfolio
From a small beginning as a fresh juice business, Monster Beverage Corporation (MNST) emerged as a leader in energy drinks. It has a 14% market share in the world's energy drink market. It's only behind Red Bull GmbH.
Article continues below advertisement
Article continues below advertisement
The creation of Monster Energy
Before 2012, Monster Beverage was known as Hansen Natural Corporation. Hansen was selling fresh fruit juices and natural soda. Inspired by the success of Austria-based Red Bull GmbH, the company's owners introduced their first energy drink in 1997. The drink didn't impress consumers.
Then, the company revamped its product by increasing the sugar and caffeine content. It launched Monster Energy in 2002. The energy drink was twice the size of a Red Bull energy drink. However, it was the same price as Red Bull. Monster Energy was popular with consumers.
The product's excellent growth over the years prompted the company to change its name from Hansen Natural to Monster Beverage. The name reflected an aggressive image—compared to its subtle impression as a fresh juice manufacturer.
Key product      
Energy drinks accounted for $2.08 billion, or 92.7%, of Monster Beverage's 2013 net sales. Non-carbonated beverages mainly include juice-based beverages. They accounted for 5.3% of the 2013 net sales. Carbonated drinks and other beverages contributed 1.3% and 0.7% of the 2013 net sales, respectively.
Article continues below advertisement
Key Monster energy brands
The company's key energy drink brands include Monster Energy, Lo-Carb Monster Energy, Monster Assault, Monster Rehab, and Java Monster. The category also includes carbonated energy drinks containing nitrous oxide—like Super Dry. Other drinks include Muscle Monster energy shakes and Monster Rehab Tea + Energy drinks. Monster Rehab Tea is a line of non-carbonated energy drinks with electrolytes.
The company's other key brands include Hansen's, Hubert's, and Blue Sky.
Competitors' brands
Monster Energy competes with brands sold by Red Bull GmbH, Rockstar International, The Coca-Cola Company's (KO) NOS and Full Throttle brands, and PepsiCo's (PEP) AMP. The SPDR S&P 500 ETF (SPY) and the SPDR MSCI World Quality Mix ETF (QWLD) have holdings in beverage companies—like MNST.
Recently, Monster Beverage announced a strategic partnership with Coca-Cola. Monster Beverage will own Coca-Cola's energy drink brands—like NOS and Full Throttle. Later in this series, we'll discuss the synergies that were involved in this deal.