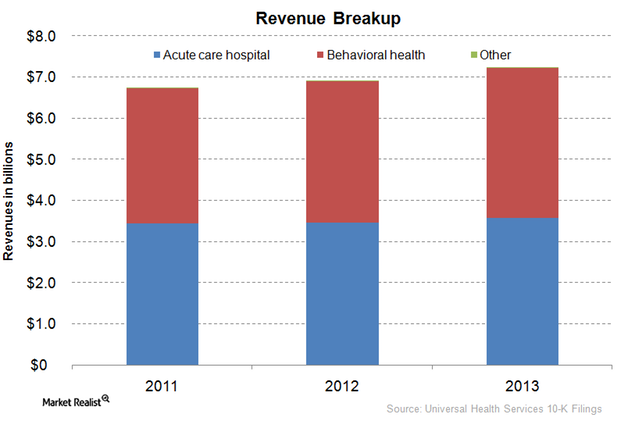 Exploring Universal Health Services' revenue streams
Segmental revenue breakup
Universal Health Services' (UHS) net revenues increased by 4.6% from $6.96 billion in 2012 to $7.28 billion in 2013. This increase was due to a combined impact of increase in revenue per admission, length of patient stay, and total admissions in 2013 as compared to 2012.
Article continues below advertisement
Article continues below advertisement
Operating groups
Universal Health Services is organized in three reporting segments: acute care hospital services, behavioral healthcare services, and "other." The "other" segment comprises centralized services such as information services, purchasing, reimbursement, accounting, taxation, and legal.
The graph above shows that the contribution of acute care hospital services to the company's net revenues decreased from 51.0% in 2011 to 49.3% in 2013, while that of behavioral health services increased from 49.0% to 50.3% in the same period.
Behavioral health and related services are among the few subsectors in the healthcare industry (XLV) that perform better in periods of economic downturns, as more people are afflicted with stress and mental ailments.
Utilization trends
Despite a decline in total admissions in the acute care services segment by 2.0% from 2012 to 2013, Universal Health Services projected a growth in total revenues on account of rise in admissions in behavioral health services segment by 7.3% in the same period. In 2013, the average length of stay and occupancy rate for licensed beds, or the average percentage of beds occupied in the acute care services segment, was 4.5 days and 56%. In the behavioral health services segment, the averages were 13.3 days and 74%.
The solid performance of the behavioral health services segment has helped the company exceed the utilization levels of its competitors, such as HCA Holdings (HCA), Community Health Systems (CYH), and LifePoint Hospitals (LPNT), which concentrate only on acute care services.