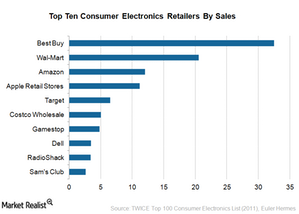 Best Buy: The largest consumer electronics retailer
Leading consumer electronics retailer
Best Buy (BBY) is a multi-channel consumer electronics retailer with stores in the US, Canada, and Mexico. Founded by Richard Schulze and Gary Smoliak in 1966, the company was called Sound of Music until 1986. Today, Best Buy has more than 1,900 stores and locations, including large-format and Best Buy Mobile stores. The company also offers technical support under the Geek Squad brand.
Article continues below advertisement
Market leader
Best Buy is the leading specialty retailer in the US consumer electronics retail industry. The company is a pure-play consumer electronics retailer. This distinguishes it from the likes of Wal-Mart Stores (WMT) and Target (TGT), which in addition to electronics, sell an assortment of products including apparel, toys, and home furnishings.
According to TWICE Magazine's report on the top 100 consumer electronics retailers, Wal-Mart and Amazon.com (AMZN) rank second and third in the consumer electronics retail industry. In contrast to the traditional bricks-and-mortar retailers, which sell products through physical stores, Amazon is an e-commerce, or online, retailer.
Changing dynamics
Over the past few years, consumer electronics retailers including Best Buy, RadioShack (RSH), and hhgregg, Inc. (HGG) have faced several challenges. These companies have been hit by the emergence of online retailers like Amazon. Also, difficult economic conditions in the broader market have had more of an impact on consumer discretionary products like electronics. As well, these companies have been facing price wars from big-box or large-store discounters such as Wal-Mart and Target.
Circuit City, one of Best Buy's closest competitors, filed for bankruptcy in November 2008 and was permanently shut down in March 2009. RadioShack is on the verge of bankruptcy now. Best Buy too went through a pretty rough phase but managed to survive under the strong leadership of Hubert Joly.
Article continues below advertisement
ETFs holding Best Buy
Best Buy is a part of several sector exchange-traded funds, or ETFs, including the Consumer Discretionary Select Sector SPDR Fund (XLY), the First Trust Consumer Discretionary AlphaDEX Fund (FXD), and the Vanguard Consumer Discretionary ETF (VCR). The company is also a part of the broader-market iShares Core S&P 500 ETF (IVV) and the SPDR S&P 500 ETF (SPY).
Series overview
In this series, we'll discuss Best Buy's turnaround strategy, its plans to counter intense competition from Amazon, its recent performance, the factors impacting its business, and certain other key points related to the company.