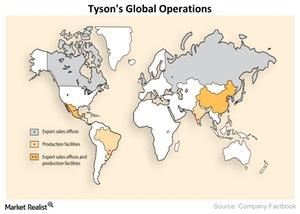 Tyson Foods Commands 24% Of The Beef Market
Company overview
Tyson Foods, Inc. (TSN) primarily produces and distributes protein products such as chicken, pork, beef, and prepared foods. It owns brands such as Sara Lee, State Fair, Jimmy Dean, Aidells, etcetera. Tyson Foods has a market cap of $13.2 billion and has facilities in the US, Mexico, India, China, and Brazil, as illustrated below.
In fiscal 2014, Tyson Foods (TSN) earned 42% of its revenues from the Beef segment, 30% from the Chicken segment, 14% from Pork, and 10% from the Prepared Foods segment. The remaining 4% from the International segment in 2014.
Article continues below advertisement
Article continues below advertisement
Commands 24% of the beef market and tops other segments
The US beef packing industry is highly consolidated. According to Cattle Buyers Weekly, in 2014, four producers controlled 75% of the market share:
Tyson Foods – 24%
JBS USA – 22%
Cargill – 19%
National Beef – 10%
According to Watt Poultry USA, in 2014, Tyson Foods also led the ready-to-cook chicken market:
For more about Pilgrim's Pride, read A key company overview of Pilgrim's Pride Corporation.
The pork production business is also consolidated. According to National Pork Board, in 2013, 71% of the market share is controlled by five players
Tyson Foods – 17%
Smithfield – 26%
JBS – 11%
Cargill – 9%
Hormel Foods Corp. (HRL) – 8%
Some of these companies are held by the SPDR S&P 500 ETF (SPY). This broad ETF also holds restaurant stocks—Tyson's customers.
For more on the restaurant industry, read An in-depth overview of the US restaurant industry.
Series overview
In this series, we'll look at each of Tyson Foods' segments, at its product portfolio, its customers, its distribution channels, at the commodities that affect the company, and at the Hillshire merger.
We'll start with revenue segments, next.