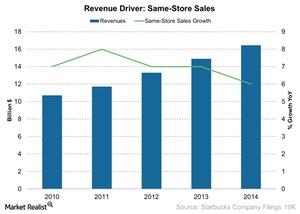 Starbucks' Same-Store Sales Growth Is Declining
Two key restaurant indicators
In the last two parts of this series, we learned about Starbucks' (SBUX) revenue sources. We also learned about its segments. The revenue is driven by several factors. However, there are two key indicators:
same-store sales growth
unit growth
This helps management understand exactly why the restaurant revenues are growing or declining. It also helps align the company's policies to focus on improving these indicator metrics.
Article continues below advertisement
SBUX's same-store sales
The above chart show the revenue and same-store sales trend over five years. The revenues have grown. Same-store sales growth decreased from 8% in 2011 to 6% in 2014. The increase in revenue was mainly due to growth in restaurant units. We'll discuss this in more detail later in this series.
Peer performance
Dunkin' Brands (DNKN) had a same-store sales growth of 5.7%. Krispy Kreme (KKD) had a same-store sales growth of 3.3% for company-owned restaurants. KKD had a same-store sales growth of 3.9% for franchise restaurants in the third quarter.
Recently, we covered Chipotle Mexican Grill (CMG) in a series. CMG has been experiencing high revenue growth because of its high same-store sales growth. You can read An in-depth overview of Chipotle Mexican Grill to learn more.
It's important to note that CMG operates in the fast-casual segment. The segment is experiencing high growth in the US. Panera Bread (PNRA) and The Habit (HABT) are two more companies that operate under the fast-casual concept.
Some of the restaurants mentioned above are also part of the SPDR S&P 500 ETF (SPY).
Same-store sales
Same-store sales indicate the sales at the existing location over a period of time—usually one year. Same-store sales are driven by traffic and ticket. In the next part of this series, we'll look at SBUX's traffic and ticket trends over a five-year period.
Note: This article originally appeared under the title "Starbucks' Same-Store Sales Are Declining." We've updated the title to clarify that same-store sales growth has slowed while revenues have increased.