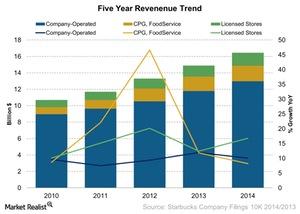 Starbucks' Coffee Has Three Revenue Sources
SBUX's three revenue sources
In the last part of this series, we learned about Starbucks (SBUX) and other players in the café business. The other players mainly include Dunkin' Brands (DNKN), Tim Hortons (THI), and Krispy Kreme (KKD). All of them compete for revenue share in the café segment. SBUX also faces competition from other concepts—like fast-food restaurants. For example, McDonald's (MCD) entered the café business with its own McCafé.
SBUX has three revenue sources:
Company-Operated Restaurants
CPG, Foodservice
Licensed Stores
Article continues below advertisement
Article continues below advertisement
Company-operated restaurants
This segment includes revenues from company-owned restaurants. The company-operated restaurants entail SBUX managing every aspect of the store. As a result, it gets to keep all of the revenues earned from this segment. In the financial year ending in 2014, this segment accounted for 79% of SBUX's revenues.
CPG, foodservice, and others
Consumer packaged goods, or CPG, include the sale of SBUX's coffee and tea-related products—like single-serve tea and coffee products. It also includes several beverages at retail stores—like grocery stores and warehouse clubs. The foodservice business includes channel development. It involves the sale of SBUX's coffee-related products to foodservice companies—like US Foods.
Foodservice companies get ingredients from several food producers—like Tyson Foods (TSN) and Pilgrim's Pride (PPC). The foodservice companies process the food and distribute it to restaurants. This segment accounted for 11% of SBUX's revenues in 2014.
Licensed stores
SBUX licenses its stores. It gets part of its revenues through royalties and license fees. In other words, these are SBUX's franchise coffee locations. As of 2014, the company had 10,653 licensed stores. These stores are about half of its system stores. This segment accounted for 10% of SBUX's revenues in 2014.
Some of the restaurants mentioned above are also included in the SPDR S&P 500 ETF (SPY).
SBUX operates in 65 countries through all of the channels mentioned above.
In the next part of this series, we'll discuss SBUX's international markets' revenue contribution.