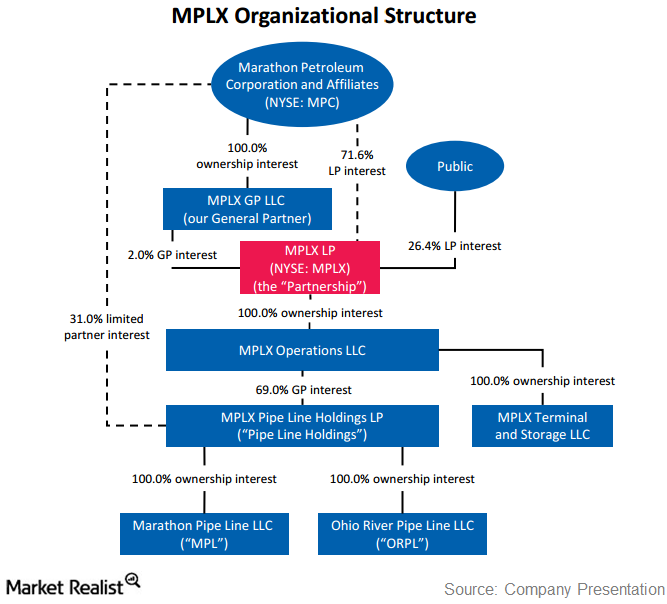 MPLX LP: The infrastructure link in Marathon Petroleum's chain
MPLX LP
Article continues below advertisement
Organizational structure
Marathon Petroleum Corporation, or MPC, owns 100% of the MPLX general partnership, or GP, interests, as well as the incentive distribution rights. MPC also holds a 71.6% limited partner interest in MPLX.
MPLX held a 69% GP interest in Pipe Line Holdings LP until recently, while MPC held the remaining 31% LP interest. We'll be talking about MPLX current ownership interest in Pipe Line Holdings and other assets in greater detail later in this series.
MPLX aligned to MPC
MPLX operations are integral to MPC's competitive advantage, and for this purpose, its businesses are strategically located within MPC's refining and market supply network.
MPC's assets are located close to emerging shale plays such as the Marcellus Shale play, Utica Shale play, etcetera. As a result, MPLX plays a crucial role in transporting crude and other hydrocarbons from these locations to MPC's refineries.
For context, MPC owns and operates seven refineries in the US Midwest and Gulf Coast regions with an aggregate crude oil refining capacity of 1.7 million barrels per day.
MPC is one of the top performing independent refining companies in the US. Read The best and worst refining performers to learn more.
Key ETFs
MPLX LP is a component of the Global X MLP & Energy Infrastructure ETF (MLPX). Its parent company, MPC, is a component of important energy ETFs such as the Energy Select Sector SPDR Fund (XLE) and is also a component of broader market ETFs such the SPDR S&P 500 ETF Trust (SPY).
The following part of this series takes a brief look at MPLX assets.