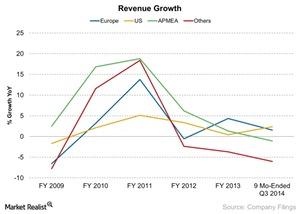 McDonald's Revenues: 5-Year Growth Slips
McDonald's five-year revenues compounded annual growth in the US just 2.1%
McDonald's Corporation (MCD) is facing a slowdown in sales, particularly in US markets. McDonald's has matured in the US, growing at a compounded annual growth rate of 2.19% over the past five years.
Also, McDonald's revenues in all four regions have shown a weakness for most parts over the past two years, as we see in the chart below. For the nine-months ended 3Q2014, year-over-year sales declined in Europe, APMEA (Asia, Pacific, Middle East, and Africa), and other countries too.
Article continues below advertisement
Article continues below advertisement
Economic indicators on an upswing
Several restaurant indicators are on an upswing, indicating better results in store for the restaurant industry as a whole. For example, the restaurant performance index, or RPI, which measures the health of the restaurant industry, grew to 101 in September from 100.2 year-over-year. Values above 100 indicate expansion. To learn more, read our economic indicator series The restaurant performance index.
The S&P Index, which is represented by the SPDR S&P 500 ETF (SPY), saw growth of ~14% as of the third quarter ended September 2014.
Some peers are performing well
Other restaurants such as Popeyes Louisiana Kitchen, Inc. (PLKI), Chipotle Mexican Grill, Inc. (CMG), and Panera Bread Co.(PNRA) have performed well with respective revenue growth of 13%, 28%, and 7% as of third-quarter end 2014.
To learn more about how other restaurants are performing in the US restaurant industry, read our series, An in-depth overview of the US restaurant industry.
Then why is McDonald's slumping?
So, the question remains, why are McDonald's sales slumping? In this series, we'll look at some of the reasons for McDonald's weak performance. We'll also try to understand management's perspective on what changes can reverse this position. Investors will be in a better position to understand their investments in McDonald's by the end of this series.
First, we'll look at the most important indicator for a restaurant such as McDonald's—same-store sales.