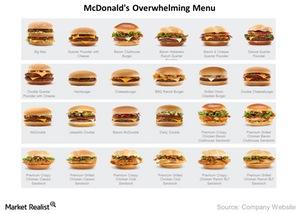 McDonald's List Of Initiatives That Will Bring A Turnaround
McDonald's list of initiatives
In Part 3 of this series, we learned that McDonald's Corporation (MCD) performed poorly in 2014 compared to some of its rivals such as Popeyes Louisiana Kitchen, Inc. (PLKI), Burger King Worldwide, Inc. (BKW), the Wendy's Company (WEN), and Yum! Brands, Inc. (YUM).
McDonald's management recognizes that a turnaround is needed, and listed some of the initiatives it's planning to put the company's same-store sales back in the black:
Menu simplification
Adopting a digital strategy
Revamping its marketing approach
Creating new "locally-driven" organizational structures
Market Realist described some of the initiatives restaurant managements can take to improve same-store sales in our series, An in-depth overview of the US restaurant industry. Read Parts 10 to 16 for more on this topic.
You can get broader exposure to the restaurant industry by investing in a portfolio such as the SPDR S&P 500 ETF (SPY).
Article continues below advertisement
Article continues below advertisement
Menu simplification
The company stated that it's testing a simpler menu in some of its stores in Delaware, Waco, Little Rock, Macon, Bakersfield, and Knoxville. Menu simplification means eliminating 16 burgers from the menu. The company will also offer only one quarter pounder, one Snack Wrap, and one Premium Chicken Sandwich as opposed to multiple variants in each category.
Menu simplification will reduce the throughput in the kitchen and increase efficiency. This should mean less wait time for customers both in-store and at the drive-through.
Other menu changes
Aside from reducing the number of items on the menu, the company also hinted at the idea of offering more locally relevant selections to its customers. Different offerings at different locations may pose a challenge for McDonald's. It would mean decentralizing its current model in which ingredients such as beef patties are produced on a large scale and distributed to all locations.
The company could lose its economies of scale with this manoeuvre. Locally produced items would put upward pressure on its prices. Certainly, it would be interesting to see how customers would react, particularly those walking into McDonald's looking for a cheap alternative.
We'll look at McDonald's other proposed initiatives in the next part of this series.