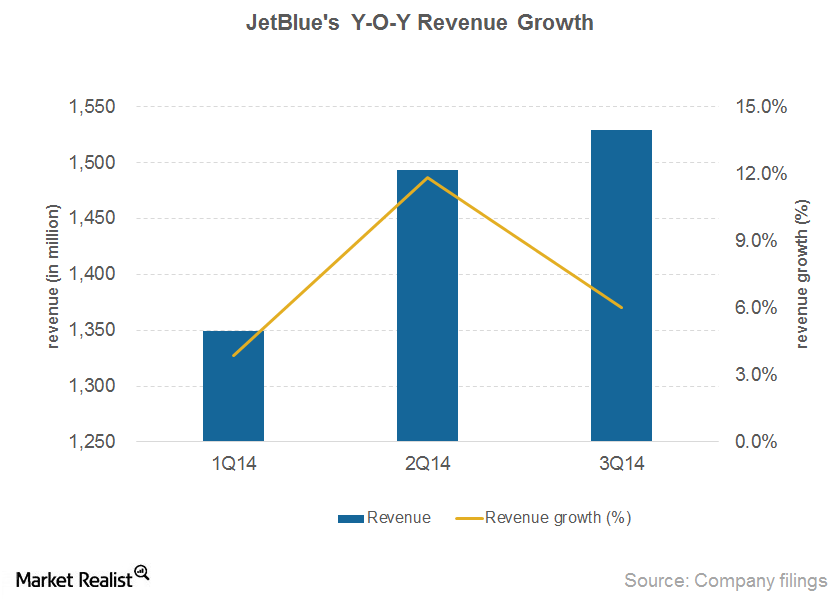 Higher passenger and ancillary revenue drive growth
Growth in operating revenue
JetBlue's operating revenue increased by 6% to $1,529 million in 3Q14 from $1,442 million in 3Q13. Unit revenue, measured as total revenue divided by available seat miles, increased by 1.5% year-over-year to 13.01 cents.
JetBlue Airways Corporation (JBLU) reported higher revenue growth than Southwest Airlines Co. (LUV), United Continental Holdings Inc. (UAL), and Alaska Air Group, Inc. (ALK). Southwest's revenue growth in 3Q14 was 5.6%, United's was 3.3%, but Alaska's revenue fell by 5.9%. Delta Air Lines, Inc.'s (DAL) revenue growth of 6.6% was higher than JetBlue's 6%.
The SPDR S&P Transportation ETF (XTN) counts ~45% of all its stock in airline companies.
The increase in JetBlue's revenue was driven by a 7% increase in passenger revenue. Passenger revenue includes seat revenue and revenue from ancillary product offerings. Ancillary revenue increased by 12% year-over-year to $190 million in 3Q14.
Article continues below advertisement
Article continues below advertisement
The sale of Live TV, its wholly owned subsidiary and leading provider of in-flight entertainment and connectivity systems for aircraft, however, had a negative impact on other revenue, which fell during 3Q14. Other revenue decreased to $115 million in 3Q14 from $121 million in 3Q13. For more details on the sale of Live TV, read Why JetBlue's LiveTV sale will affect its financials.
On-time performance impacted by congested airspace
JetBlue's on-time performance, or the number of flights arriving within 14 minutes of the scheduled arrival time, has improved to ~76% in 3Q14 compared to ~73% in 3Q13. Meanwhile, it has underperformed relative to its peers.
With the exception of Southwest, which had a lower on-time performance of 75% in 3Q14, most of the other airlines did better than JetBlue. Hawaiian had the highest on-time arrival rate of ~93%, followed by Delta's ~86%, and Alaska's 85%. American Air Lines Group's (AAL) and United's on-time arrival rates were 78% and 77%, respectively—only slightly better than JetBlue's.
The company states that its on-time performance was impacted by congestion in the air space. That's because JetBlue's operations are concentrated in northeastern US, one of the world's most congested airspaces.