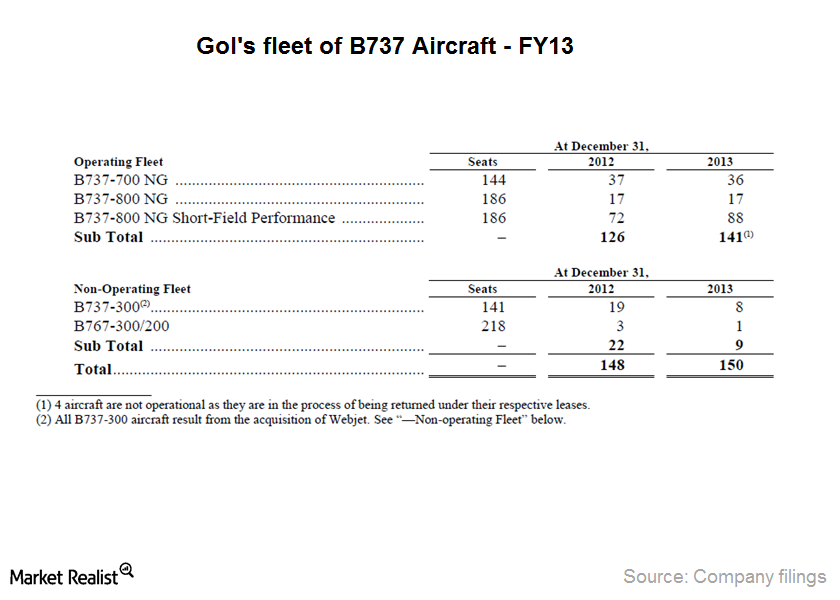 Gol maintains low-cost advantage with single fleet type
Fleet update
Gol uses a single fleet type for its operations. As of December 2013, Gol had an operational fleet of 141 aircraft comprising the Boeing 737-700/800. The average age of these aircraft was 7.1 years, and the average daily utilization in 2013 was 11.2 block hours compared to 12.1 block hours in 2012. According to the airline's management, the B737 uses an average of 7% less fuel than other aircraft of comparable size and has the lowest operating cost in its class.
Article continues below advertisement
Article continues below advertisement
Boeing 737
B737-300 aircraft were added to Gol's fleet after it acquired Webjet in 2011, mainly to gain slots at Brazilian airports. Webjet then laid off most of its employees and closed the company's operations. As a result, the fleet is currently non-operational.
Gol will continue to operate with Boeing 737-700/800 aircraft and plans to add the Boeing 737 Max-7/8, which is expected to be delivered in 2018. Including the Max-7/8s, the total operating fleet is expected to decrease to 137 aircraft by the end of 2014, increasing to 140 in 2015 and 2016, and then 141 in 2017 and 2018.
Single aircraft efficiencies
Using a single aircraft type takes advantage of maintenance efficiencies to reduce disruption of operations. The airline reduces training costs with standardized pilot training and maintenance routines. For the same reason, many US low-cost carriers, including Southwest (LUV) and JetBlue (JBLU), use fewer aircraft types in their fleet compared to legacy carriers such as American (AAL), Delta (DAL), and United (UAL), which have a wide range of aircraft types.
For further details on how low-cost carriers maintain their cost advantage, refer to Low-cost carrier strategies to maintain competitive advantage. ETFs that hold shares of these US airlines include the iShares Transportation Average ETF (IYT) and the SPDR S&P Transportation ETF (XTN).