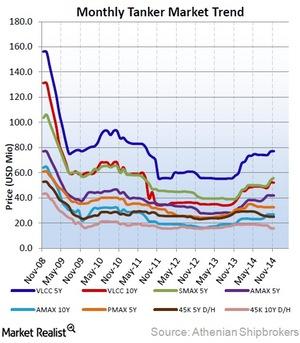 Five-year and ten-year VLCC prices increase
Newbuilds vs. secondhand vessel prices
With faster deliveries and employment of vessels, secondhand vessels tend to reflect industry participants' expectations for medium-term fundamentals. This is unlike newbuilds with a mandatory minimum two years for delivery. Thus, this trend suggests that secondhand vessel prices tend to be more responsive to changes in current rates.
Since buyers and sellers are more medium-term thinkers, they're more responsive to industry turnarounds compared to newbuilds. Although this only takes about one or two months, share prices can move quickly within a short period.
Article continues below advertisement
Article continues below advertisement
Secondhand vessel values
Five-year VLCC (very large crude carrier) prices in November 2014 increased to $77.1 million from $76.8 million in October 2014. This is the highest level since August 2011 and much higher than the post-boom trough of $55 million in mid-2013. Ten-year VLCC prices remained consistent at $52.1 million, the previous month's level.
Suezmax's five-year prices stood at $55.8 million compared to $53.9 million in October 2014. Other vessel values, including Aframax (five-year and ten-year) and Panamax (five-year), remained in line with the previous month's levels.
Vessel price appreciation
Companies are trying to benefit from rising values for secondhand tankers underpinned by soaring freight rates in the sector amid falling crude oil prices. Tanker stocks such as Teekay Tankers Ltd. (TNK), DHT Holdings Inc. (DHT), Nordic American Tanker Ltd. (NAT), and Frontline Ltd. (FRO) should continue to benefit from rising secondhand values. The Guggenheim Shipping ETF (SEA) is also likely to benefit in the upcoming few months.