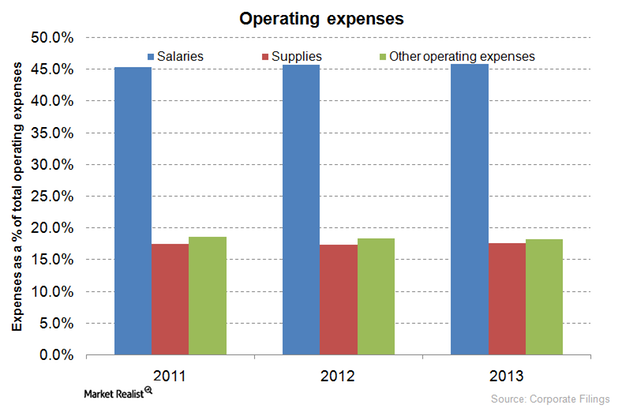 Exploring HCA Holdings' operating expenses
Operating expenses
Operating expenses of HCA Holdings (HCA) increased marginally from 81.3% in 2012 to 81.5% in 2013. Compared to the operating expenses of peers like Community Health Systems (CYH) and LifePoint Hospitals (LPNT), which amounted to 87% and 87.3% of the net revenues respectively, HCA Holdings seems to be more cost efficient in its operations. Universal Health Services (UHS) has a cost structure comparable to that of HCA Holdings, and its operating expenses comprise 81% of the total net revenues of the firm.
Article continues below advertisement
Article continues below advertisement
Salary expenses
The healthcare industry, represented by Health Care Select Sector SPDR ETF (XLV), is capital intensive in terms of physical as well as human capital. Salaries accounted for 45.8% of total net revenues in 2013, which is a marginal increase of ten basis points from that in 2012. This rise can be attributed to the shortage of nurses and other medical staff in key markets such as Florida, resulting in an increase in remuneration levels.
Also, to implement the strategy to provide a broad suite of specialized services, quality physicians and other skilled clinical personnel must be attracted and retained. This puts additional upward pressure on salary expenses.
Supplies and other expenses
Expenses on supplies amounted to 17.5% in 2013, which is a rise from 17.3% in 2012. These supplies include medical devices, pharmaceutical supplies, and general medical and surgical items. Other operating expenses as a percentage of total revenues declined to 18.2% in 2013 from 18.3% in 2012. Other operating expenses consist of contract services, professional fees, repairs and maintenance, and rents and leases.
HCA manages its health care purchasing and supply chain through its subsidiary, Parallon Business Solutions. Parallon uses the group purchasing services of HealthTrust Purchasing Group. Parallon also provides services such as revenue cycle management and staffing to HCA Holdings. With solutions such as flexible staffing and optimal group purchasing provided by Parallon, HCA Holdings has better operating margins as compared to its peers.