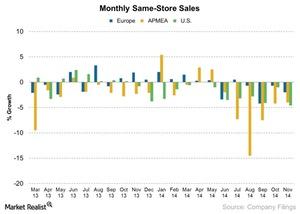 Downward trend: McDonald's November Same-Store Sales
McDonald's November same-store sales
McDonald's Corporation (MCD) releases its same-store sales performance figures every month. The latest numbers for November were released on December 8. The chart below illustrates the company's performance.
The two most important drivers of revenue in a restaurant business are same-store sales and unit growth. Same-store sales growth, represented as a percentage, measures the growth at existing stores or locations over a period of time. It excludes sales from new units that opened during the year.
Article continues below advertisement
Weakness in the US market
Monthly same-store sales for McDonald's in the US have been negative since the beginning of November 2013. Management believes changing customer preferences is the main reason for this weakness, along with other factors we'll cover later in this series. The company's chief executive officer, Don Thompson, stated, "the customers are demanding more choice, convenience and value in their dining-out" experience.
To learn more about the US restaurant industry, read our series, An in-depth overview of the US restaurant industry.
Weakness in APMEA and Europe
The APMEA, or Asia Pacific, Middle East, and Africa, market includes China, a key emerging market for McDonald's. Here, the company also experienced a decline in same-store sales beginning in the second half of 2014. This was primarily caused by the meat scandal involving one of its suppliers, Shanghai Husi, a subsidiary of OSI Group. To learn more about this topic, read Why McDonald's took a big hit in China.
The scandal also affected Yum! Brands, Inc. (YUM), Burger King Worldwide, Inc. (BKW), and even Starbucks Corporation (SBUX) in China. McDonald's and Yum! Brands are both included in the SPDR S&P 500 ETF (SPY).
Same-store sales in the European segment were similarly negative for most of the second half of the year. The slowdown is blamed on tensions between Russia and Ukraine, and weaker sales in France and Germany. For more on this topic, read Why McDonald's same-store sales declined across all segments.
Same-store sales growth for McDonald's is clearly a concern. In the next part of this series, we'll look at what management thinks about this situation.