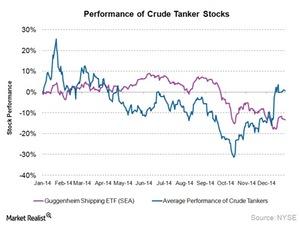 The crude tanker industry and its performance
By Katie Dale

Updated
Two types of oil tankers
There are basically two types of oil tankers: crude carriers for unrefined products and product carriers for refined products. Crude tankers are mainly used for deep sea transport of crude oil from production sites to refineries. They range in size from 55,000 deadweight tonnes (or DWT) up to around 450,000 DWT. Its main trading routes are from the production areas in the Arabian Gulf and West Africa to Asia, Europe, and the United States.
Article continues below advertisement
Industry and company performance
From October 1, 2014, until now, crude tanker companies such as Tsakos Energy Navigation Ltd. (TNP), Frontline Ltd. (FRO), Teekay Tankers Ltd. (TNK), Nordic American Tanker Ltd. (NAT), and DHT Holdings (DHT) have recorded increases of 9.6%, 66.7%, 41.1%, 27%, and 11%, respectively.
For the same period, the Guggenheim Shipping ETF (SEA), which tracks a basket of major shipping companies worldwide, has fallen by 8.2%, underperforming the S&P 500 that dipped by 7.4%.
Industry dynamics and factors
Energy transport is driven by global economic growth and dislocation of consumption and production, which is reflected in cyclical freight rates that vary according to vessel supply and demand. In this series, we'll analyze the factors that drive the crude tanker industry and affect the performance of tanker companies.
Before we begin these important indicators, we'll look at the Baltic Dirty Tanker Index, an index that reflects the overall rate of transporting crude on water in tankers. Among indicators, we'll also take a look at US imports and US domestic production.
Vessel prices play a major role in changing the industry dynamics. We'll take a look at newbuild and secondhand vessel prices as well as ship ordering activities.