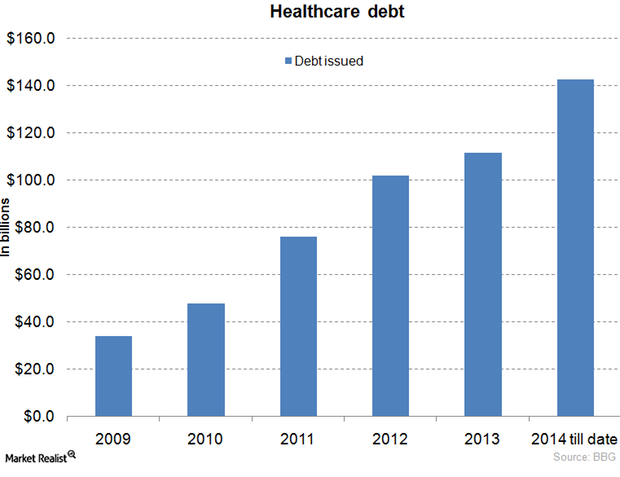 Why changes in interest rates affect the hospital industry
Capital-intensive business
The healthcare industry, represented by the Healthcare Select Sector SPDR (XLV), is a capital-intensive industry. Hospital companies require substantial capital, both for operating purposes as also for renovating hospitals or expanding the hospital network. As a result, hospital companies generally carry a high level of debt on their balance sheets. This debt comprises a combination of variable- and fixed-rate loans of varying time durations. Economic changes in interest rates affect hospital companies, depending on the company's cost-structure and expansion strategies.
Article continues below advertisement
Article continues below advertisement
Refinance debt
To take advantage of the low interest rates since 2012, major hospital operators such as HCA Holdings (HCA), Community Health Systems (CYH), LifePoint Hospitals (LPNT), and Universal Health Services (UHS) have refinanced their maturing debt and loans. In 2012, they saw a sudden spurt in the issuance volume for refunding. Community Health Systems refinanced its debt with a 1.2 billion debt offering in 2012. It's raised its debt since then to lower the effective interest rate.
In March 2014, HCA Holdings announced that it would raise $3 billion in senior secured notes to repay notes due in 2019 and 2020, which have rates at 8 1/2% and 7 7/8%. Analysts project that, post-refinancing, the rate will decline to 4%. These refinancing transactions let hospitals lower their cost of capital and improve profitability.
Tax-exempt bonds
While seeking long-term financing, hospitals opt for fixed-rate, tax-exempt municipal bonds. These bonds are issued by hospitals of all sizes and ratings. They let hospitals reduce their cost of capital. In 2014, hospitals have issued tax-exempt debt and taxable municipal debt worth $15.9 billion and $1.7 billion, respectively. The low interest rate environment has also boosted the taxable municipal bond market by narrowing the gap between taxable and tax-exempt issues.