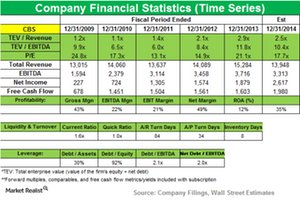 CBS gets position with Davidson Kempner
Davidson Kempner and CBS
Davidson Kempner Capital Management added new positions in Shire Plc (SHPG), Alibaba Group Holding (BABA), and CBS Corporation (CBS). It exited positions in The Walgreen Company (WAG), Yum! Brands, Inc. (YUM), and Starbucks Corporation (SBUX). The fund added to its positions in Signet Jewelers Limited (SIG) and Allegion Plc (ALLE). It lowered its stakes in Lamar Advertising Company (LAMR) and Tiffany & Co. (TIF).
Davidson Kempner Capital Management initiated a new position in CBS Corporation (CBS) that accounted for 1.55% of the fund's 3Q14 portfolio.
Article continues below advertisement
Overview of CBS
CBS Corporation (CBS) creates and distributes industry-leading media and entertainment content across a variety of platforms to audiences around the world. The company's business covers the following areas:
Television channels
Cable programming
Television content production
Television content distribution
Motion pictures
Consumer publishing
Radio stations
Interactive media
CBS completes tax-free separation of billboard business
CBS spun off its Outdoor Americas billboard business at the end of March in an initial public offering (or IPO). CBS Outdoor Americas sold 23 million shares, or 19% of its stock, for $28 per share in the IPO, raising $615 million. It also received a favorable private-letter ruling from the Internal Revenue Service (or IRS) over the conversion of CBS Outdoor Americas to a real estate investment trust (or REIT).
CBS's management said, "The separation of this business will bring us that much closer to achieving our goal of becoming a pure content company and, at current market prices, puts us on track to return about $6 billion of value to shareholders in 2014."
Article continues below advertisement
Also, CBS disposed of its remaining 81% stake in CBS Outdoor Americas through a tax-free split-off in July. Under the terms of that transaction, CBS exchanged its 97 million shares of Outdoor Americas' common stock for 44.7 million shares of CBS Corporation's Class B common stock. This transaction resulted in a gain of $1.56 billion.
CBS launches streaming service
In October, CBS announced the launch of CBS All Access, a new digital subscription streaming service available at CBS.com and via the CBS mobile app for iOS and Android. CBS said the "service allows subscribers to watch more CBS programming online and on mobile devices while introducing yet another monetization window for its content." The move helps CBS compete with popular streaming services such as Netflix, Amazon, and Hulu. Time Warner's HBO also plans to launch a stand-alone web-streaming service next year.
Article continues below advertisement
Third-quarter results beat estimates
CBS' 3Q14 results were better than expected. Revenues of $3.37 billion rose 2%, from $3.30 billion in the same quarter a year ago. Content licensing and distribution revenues from higher international and domestic licensing of television programming drove this growth.
The broadcast of Thursday Night Football on CBS and political revenues associated with midterm elections contributed to the 2% advertising revenue increase.
Adjusted operating income before depreciation and amortization (or OIBDA) of $814 million fell 2%. The dip was due to increased television programming investments that were mainly associated with new National Football League (or NFL) contracts.
CBS posted a profit of $1.64 billion, or $3.03 per share, in the quarter. That included a gain of $1.56 billion stemming from the split-off of Outdoor Americas.
Net earnings from continuing operations were $72 million, compared to $431 million in the same quarter a year ago. The decline was due to higher programming investments as well as losses of $23 million associated with changes in foreign exchange rates.
Repurchase of company stock
CBS bought back 6.9 million shares of CBS Corporation's Class B common stock for $400 million during 3Q14. For the nine months ended September 30, 2014, the company reduced its total shares outstanding by 90.1 million. This included 45.4 million shares repurchased for $2.81 billion in cash and 44.7 million shares received in connection with the Outdoor Americas split-off.