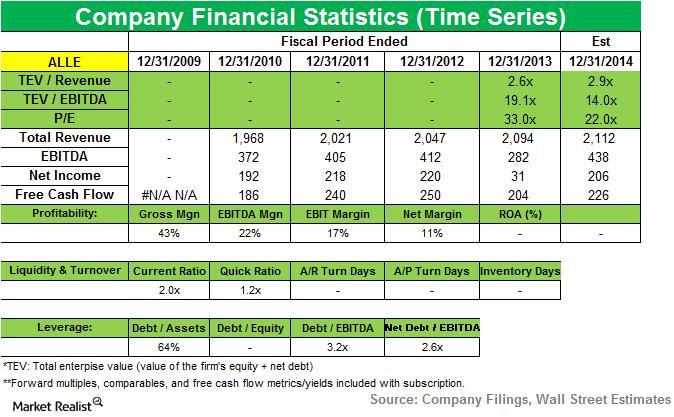 Trian Fund lowers its position in Allegion
Trian Fund and Allegion

Trian Fund Management, L.P. added to its positions in the Bank of New York Mellon Corporation (BK), Mondelez International Inc (MDLZ), PepsiCo, Inc. (PEP), and Tiffany & Co. (TIF). During the second quarter of 2014, the fund decreased its positions in Allegion plc (ALLE) and Ingersoll-Rand plc (IR), and sold its position in GNC Holdings, Inc.(GNC).
A 13D filing in September reveals that Trian Fund added to its position in Wendy's Company (WEN).
Trian Fund reducd its position in Allegion plc (ALLE) in the quarter ended in June. The stock accounted for 1.38% of the fund's 2Q14 portfolio.
About Allegion
Allegion provides security solutions for homes and businesses, employing more than 8,000 people and selling products in more than 120 countries across the world. Allegion is made up of 25 global brands, including strategic brands Interflex, Schlage, and Von Duprin.
Earnings and revenue beat estimates
Article continues below advertisement
Allegion reported third-quarter 2014 net revenues of $546.7 million, up 3.3% compared to the previous year. It also reported net earnings of $62.4 million, or $0.64 per share from continuing operations. Earnings per share (or EPS) from continuing operations was $0.64, compared to a loss of $0.81 EPS in 3Q13. Adjusted EPS was $0.68, up 41.7% compared with 2013 adjusted EPS of $0.48.
Third-quarter net revenues increased 6.8% on an adjusted basis, due to strength in the Americas and Asia-Pacific segments that offset lower revenues in Europe, Middle East, India, and Africa (or EMEIA).
The Americas segment 9% growth was driven by mid-single digit volume increases in both non-residential and residential segments. Latin America volume was up significantly, primarily due to incremental price realization in Venezuela to offset inflation.
The EMEIA segment revenues were down by 2.8%, due to continued market softness, geopolitical uncertainty, and divested businesses in the current year.
Asia-Pacific revenues were up by 6.9%, due to volume growth in the North Asia, Australia, and New Zealand regions. The acquisition of Fire & Security Hardware in the second quarter contributed to this growth.
Adjusted net earnings were $65.5 million, or $0.68 per share from continuing operations, an increase of approximately 42% compared to the previous year. The increase in earnings reflects strong demand in the Americas, continued margin improvement in EMEIA, and a reduction in the effective tax rate.
Allegion divested doors and services businesses
On September 1, 2014, Allegion completed the sale of its United Kingdom-based door businesses to an affiliate of Alcyon Financial Limited, a financial investment firm. The businesses sold include the Dor-o-Matic branded automatic door business, the Martin Roberts branded performance steel door business, and the United Kingdom service organization. This deal will help Allegion focus on its key strategic businesses and services that can be leveraged across the EMEIA region.
Outlook for 2014
For fiscal year 2014, Allegion expects revenues to be up by approximately 4.5%. In the Americas, it expects high single-digit residential revenue growth and strong Venezuelan growth, driven by pricing actions. The non-residential segment will see modest revenue growth as institutional market recovery continues at a very slow pace.
For Europe, revenue growth is forecast to be negative because of ongoing geopolitical uncertainty and market softness. Adjusted earnings per share are forecast to be in the range of $2.37 to $2.42, an increase of 10% to 12% from 2013's adjusted earnings per share. This is driven by operational improvements, European actions, and a reduction in the effective tax rate while investing and positioning the company for future growth.
In the next part of this series, we'll review Trian Fund's reduced stake in Ingersoll-Rand.