A quick overview of Cloud Peak Energy
By Mike Sonnenberg

Nov. 24 2014, Updated 4:58 p.m. ET
Pure-play Powder River Basin thermal coal producer
Cloud Peak Energy Inc. (CLD) is headquartered in Gillette, Wyoming. The company formed in 2009 as a corporate spinoff of Rio Tinto Energy America (RIO). The company markets itself as a pure-play Powder River Basin thermal coal producer (KOL). In contrast, Walter Energy, Inc. (WLT) markets itself as a "pure-play met coal producer."
Aside from Cloud Peak Energy, Peabody Energy Corporation (BTU) also produces only thermal coal in the US. Meanwhile, Peabody Energy produces met coal in its Australian operations.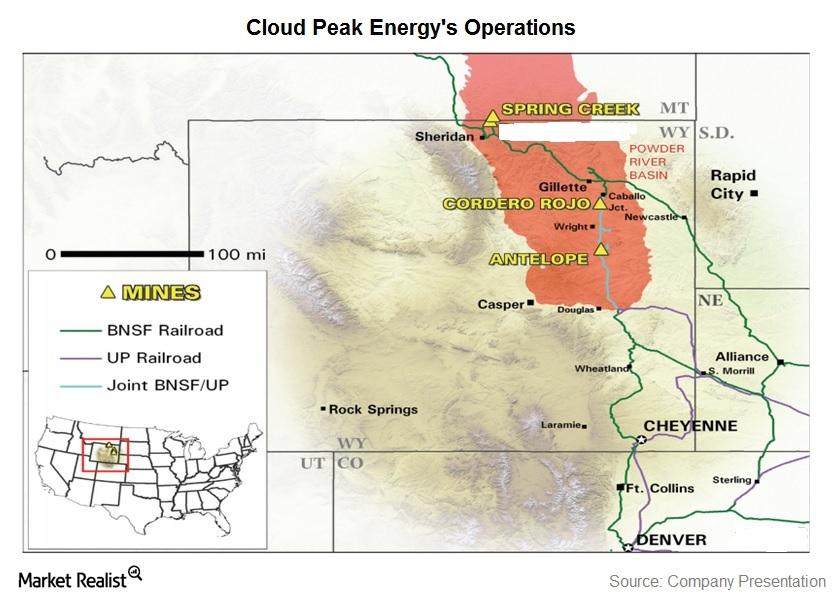 Article continues below advertisement
Mining operations
Cloud Peak Energy owns and operates three surface mines in the Powder River Basin, two in Wyoming, and one in Montana.
The Antelope Mine is in Wyoming, towards the southern end of the Powder River Basin. This mine extracts coal from seams with thickness ranging from 36 feet to 44 feet. The company produced and shipped 31.4 million tons of coal with calorific value of 8,897 Btu (or British thermal units) in 2013.
The Cordero Rojo Mine is the company's other Wyoming-based operation. The mine extracts coal from seams with thickness ranging from 55 feet to 70 feet. The company produced 36.7 million tons of 8,476 Btu coal from this mine in 2013. The company is planning to cut production at this mine by 10 million tons every year, starting in 2015.
Cloud Peak Energy's Spring Creek Mine is located in Montana and extracts coal from a seam 80 feet thick. The mine produced 18 million tons of 9,283 Btu coal in 2013.
Logistics business
Apart from producing coal, the company also runs a logistics business that provides export related services to the company and other coal producers. A large part of the revenues for the segment comes from exports to Asia, primarily through Westshore Terminals in Canada.
The company has an export capacity of 7 million tons at the proposed Millenium Bulk Terminals through its deal with Ambre Energy to sell its stake in the Decker mine. For more details about the deal, move on to the next part of the series.