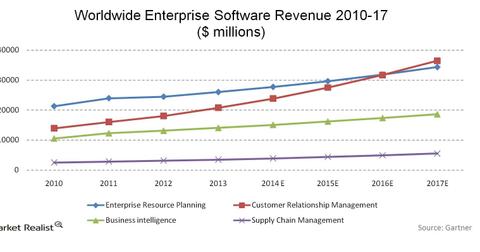 Must-know: Enterprise resource planning
By Anne Shields

Updated
Enterprise resource planning
Enterprise resource planning (or ERP), is business process management software. It allows an organization to manage its business by using a system of integrated applications. ERP is product domain software that integrates all facets of an operation. Among its different modules, each module is specialized to handle a defined business process of organization.


The previous chart shows the steadily increasing revenues of ERP and its segments. Among all the segments of enterprise software, CRM is expected to see rapid growth in coming years. Salesforce.com (CRM), SAP AG (SAP), Oracle (ORCL), IBM Corp. (IBM), Microsoft (MSFT), and SAS Institute Inc. (SAS) are the leading players in this market.
Article continues below advertisement
The application refresh cycle (time usually required for updating the software) for human capital management (HCM) and supply chain management (SCM) can be ten to 15 years. For ERP applications (for example—financial management systems), it can go up to 15 years or longer. Among all the business software mentioned, the application refresh cycle for customer relationship management (CRM) is the shortest, typically five to seven years. This could be a potential reason behind the strong growth the segment is experiencing.
Organizations implement ERP systems to incorporate best practices in their operations and gain a sustainable competitive advantage over industry peers. This isn't possible if your competitor is using the same business process. For example, accounting and general ledger are overhead functions. In general, they don't provide a sustainable competitive advantage. As a result, organizations need to identify which functions and modules needs to be configured to meet the specific organization's needs.
Popularity and adoption of ERP has led organizations to bundle various enterprise software, like customer relationship management and business intelligence, along with ERP as a single and bundled package.
The convergence of social, mobile, and cloud are expected to drive growth in enterprise software. SAP AG (SAP), Salesforce.com (CRM), Oracle Corp. (ORCL), Workday (WDAY), and Netsuite (N) are the leading players in ERP space.