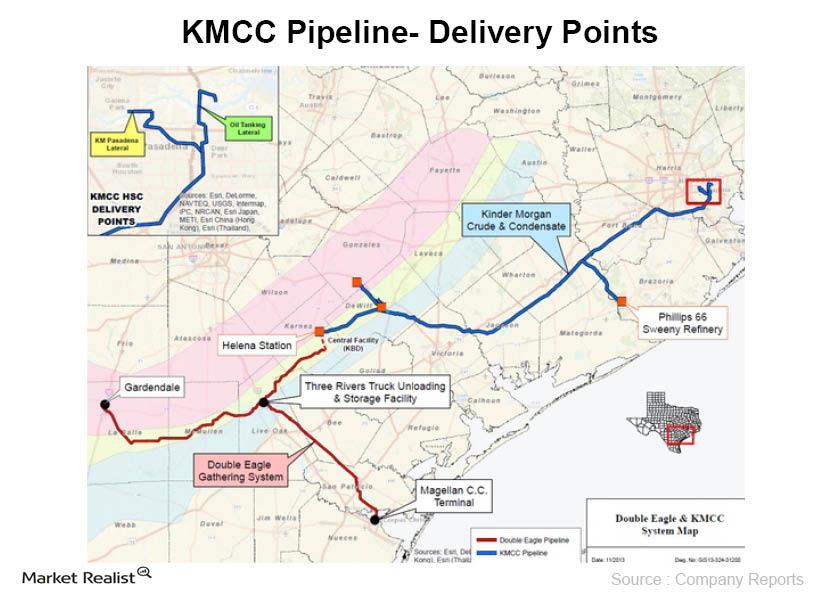 Must-know: Why the Kinder Morgan Eagle Ford expansion is positive
Kinder Morgan Energy Partners
Kinder Morgan Energy Partners L.P. (KMP) is the largest pipeline transportation and energy storage company in North America. Its pipelines transport natural gas, gasoline, crude oil, carbon dioxide (or CO2), and other products. Its terminals store petroleum products and chemicals and handle such products as ethanol, coal, petroleum coke, and steel. It operates out of four major segments: refined petroleum pipelines, natural gas pipelines, CO2 pipelines, and the terminals segment.
Article continues below advertisement
The petroleum pipeline segment delivers gasoline, diesel fuel, jet fuel, and natural gas liquids (or NGLs) to various markets through approximately 8,600 miles of petroleum pipelines. The natural gas pipelines segment gathers, transports, stores, treats, processes, and sells natural gas through approximately 33,000 miles of natural gas pipelines and gathering lines. It also has natural gas storage, treating, and processing facilities. The CO2 segment produces, markets, and transports carbon dioxide through approximately 1,500 miles of pipelines to oil fields. This segment also owns and operates seven oil fields and a 450-mile crude oil pipeline system in west Texas. The company's terminals segment transloads, stores, and delivers bulk, petroleum, petrochemical, and other liquids products through approximately 113 liquids and bulk terminal facilities.
Kinder Morgan Energy Partners plans several major Eagle Ford joint ventures and projects that could reach almost $900 million in expenditures if company reports are to be believed. One of its most talked about investments include the expansion of the Kinder Morgan Crude and Condensate (or KMCC) pipeline, farther into the Eagle Ford shale.
The KMCC pipeline connects the Eagle Ford shale with various terminal facilities that provide access to petrochemical plants, local refineries, and docks along the Texas Gulf Coast. Besides crude oil, the pipeline also transports condensates, which are light hydrocarbons often used as a raw material in oil refineries and other petrochemical industries. The pipeline is about 178 miles long and has a total capacity of around 300 thousand barrels per day (or bpd).
Article continues below advertisement
The expansion, which was announced last year, is supported by a long-term contract with ConocoPhillips (COP), and will extend the 178-mile pipeline 31 miles from the KMCC DeWitt Station in DeWitt County, Texas, to ConocoPhillips' Central Delivery Facility near Helena in Karnes County. Kinder Morgan will also build receipt tanks and a truck unloading facility adjacent to ConocoPhillips' Helena Central Delivery Facility. KMP believes that the expansion provides "much needed optionality to Eagle Ford producers and Houston market consumers." The company also reported that it secured long-term commitments for two-thirds of the 300,000 bpd capacity on the KMCC pipeline linking Eagle Ford Shale crude and condensate to the Houston Ship Channel.
Additionally, KMP had also announced that it would be investing $74 million to build a lateral pipeline northwest from its DeWitt station in DeWitt County, to a new facility in Gonzales County, where KMP will build 300,000 barrels of storage, a pipeline pump station, and truck offloading facilities. The lateral will enable KMP to transport Eagle Ford crude and condensate from the new Gonzales Station via KMCC to its delivery points on the Houston Ship Channel and the Sweeny lateral pipeline serving the Phillips 66 Sweeny (PSX) refinery in Brazoria County, Texas. It is important to note that the Sweeny lateral pipeline, which connects the KMCC pipeline to the Phillips 66 Sweeny refinery, was put into service in January this year. Both the PSX and COP are a part of the Energy Select Sector SPDR Fund (XLE), while KMP is a part of the Alerian MLP Fund (AMLP).
KMP has several other growth projects and joint ventures lined up in the Eagle Ford in 2014. These include the recent $5 billion acquisition of Copano Energy's (CPNO) assets in the Eagle Ford Shale and a 400 MMcf (million cubic feet) per day expansion in Kinder Morgan's Houston Central plant in Colorado County, Texas, which currently includes a 700 MMcf per day of cryogenic processing capacity and 22 MMbpd (million barrels per day) of fractionation capacity.
To summarize, KMP has several growth projects lined up for 2014 in the Eagle Ford. In its quarterly report, the management increased its capex guidance of $900 million to $1 billion in the Eagle Ford alone.
Continue reading the next section in the series to learn about one more midstream name that has growth projects lined up in the Eagle Ford in 2014.