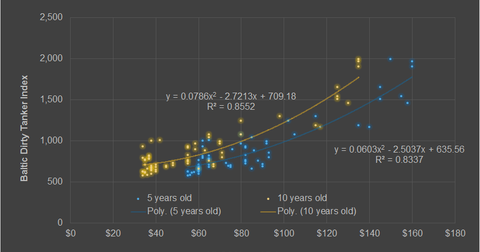 Why 5- and 10-year VLCC prices suggest higher oil shipping rates
By Xun Yao Chen

Updated
Higher secondhand vessel values
While newbuild prices rose by just 1% for both VLCCs and Suezmax ships in March, prices of secondhand vessels rose at a faster pace. Five-year-old VLCC prices rose from $73 million to $75 million—a 2.74% increase—while ten-year-old VLCC prices stood unchanged at $48 million. While the latter might seem negative, investors should consider that similar ships rose 14.29% in price in February—so a break is to be expected.
The difference compared to newbuilds
Article continues below advertisement
Unlike they do for newbuilds, buyers and sellers don't have to wait for about two years to have secondhand ships delivered. So price movements in secondhand vessels tend to reflect industry participants' expectations for medium-term fundamentals. This also means secondhand vessel prices tend to be more responsive to changes in current rates.
Since buyers and sellers are more medium-term thinkers, they're more responsive to industry turnarounds compared to newbuilds. Although this only takes about one or two months, share prices can move fast within a small period. Given current levels of five-year and ten-year prices, buyers and sellers are expecting Baltic Dirty Tanker Index to average around 760 to 787—similar to the number we got using current newbuild prices.
Vessel price appreciation
Investors should consider that analysts use secondhand vessel prices to value dry bulk shipping companies in the stock market. The higher the value of these assets, the higher the value of a company's assets. Changes to the value of a firm's assets would also have a magnified impact on shareholders' equity (the value of ownership in the company) after subtracting debt.
As long as these prices continue to rise, tanker stocks such as Teekay Tankers Ltd. (TNK), Tsakos Energy Navigation Ltd. (TNP), Nordic American Tanker Ltd. (NAT), and Frontline Ltd. (FRO) should continue to benefit from higher rates and valuations—unless already priced in. If vessel values eventually come down because of over-optimistic expectations for rates, these stocks and the Guggenheim Shipping ETF (SEA) could be negatively affected.
For more information on the marine shipping industry, check out the Market Realist series Why Indonesia's nickel ore export ban affects dry bulk shippers.