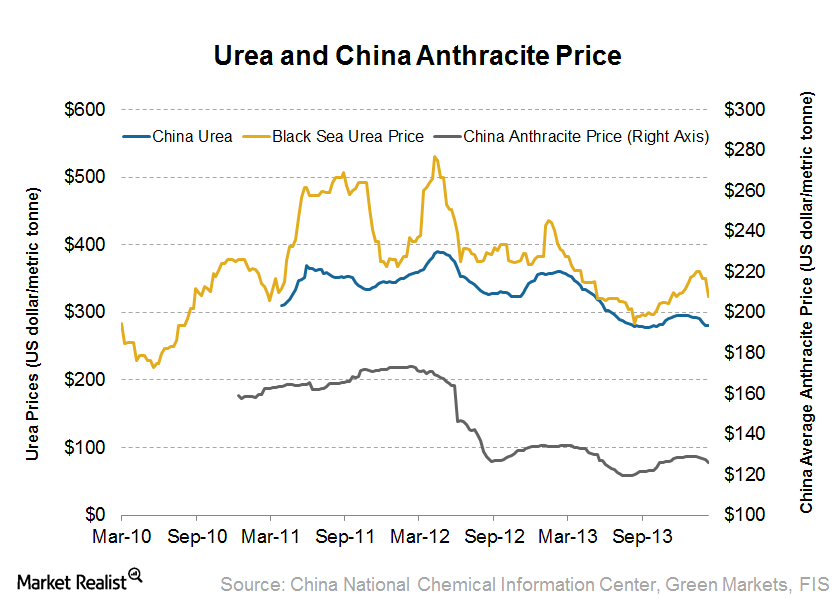 Why coal prices affect global urea fertilizer producers like CF
Input price
While most of the world uses natural gas as a feedstock for nitrogen fertilizer production, the majority of manufacturing plants in China use coal (particularly anthracite). As China is the marginal producer, Chinese producers' costs set the floor price for the global market.
Since China's low-cost anthracite-based fertilizer producers are the least expensive producers to supply the last bit of fertilizer demand, they set the global market's floor price. If prices are lower than the cost to produce and export the product out of the country, retailers and distributions won't be able to purchase an estimated 180 million short tons of supply. Conversely, these suppliers won't risk charging higher prices. Otherwise, more expensive producers in Western Europe and Eastern Europe could take business away.
A reversing trend
Prices of nitrogen fertilizers, a key driver of producers' revenue and earnings, have risen since November as China's high export tax season ended and farmers returned to purchase fertilizers for this year's plantation. But recently, we've seen urea prices in China and the Black Sea weaken.
Urea and coal prices
Article continues below advertisement
Since hitting $300 per metric tonne, urea prices in China fell to ~$277 per metric tonne on March 14, 2014. Urea prices in the Black Sea stood at $324 per metric tonne on the same date. Prices will likely ping-pong between ~$360 per metric tonne and ~$290 per metric tonne this year if coal prices in China stay within the same range as in 2013.
Urea prices are likely to fall over the next few months as China's high export tax season comes to an end. So although companies such as Terra Nitrogen Company (TNH) and CVR Partners LP (UAN) rose recently, they won't reach the levels we saw at the start of 2013. This would negatively affect Agrium Inc. (AGU), the VanEck Vectors Agribusiness ETF (MOO), and CF Industries Holdings Inc. (CF) if this expectation weren't priced in and if coal prices didn't improve.
This series covers key trends that are currently affecting coal and natural gas prices and, consequently, nitrogen fertilizer producers as well.