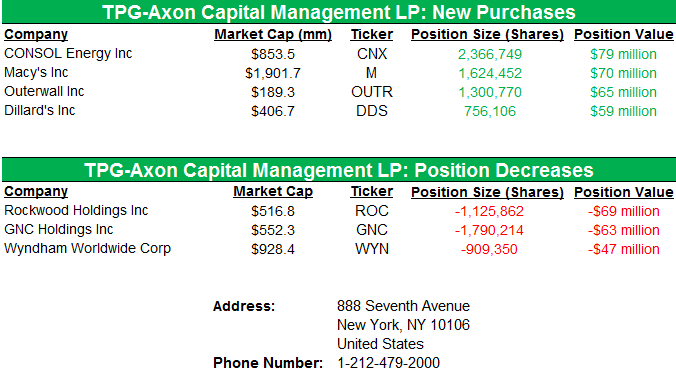 TPG-Axon Capital buys CNX, M, OUTR, and DDS and decreases positions in ROC, GNC, and WYN—13F Flash A
TPG-Axon Capital Management LP (TAC) is a privately owned $4 billion hedge fund firm founded by Dinakar Singh in February 2005, in partnership with private equity firm Texas Pacific Group. TPG-Axon Capital Management is based in New York, with additional offices in Hong Kong and Tokyo.
In this six-part series, we'll go through some of the main positions TPG-Axon Capital traded this past quarter.
Abbreviated financial summaries and metrics for these securities are included below. Detailed analysis and recommendations require a subscription (more information at the bottom of the article).
The fund started new positions in Consol Energy (CNX), Macy's Inc. (M), Outerwall Inc. (OUTR), and Dillard's Inc. (DDS) and it decreased positions in Rockwood Holdings Inc. (ROC), GNC Holdings Inc. (GNC), and Wyndham Worldwide Corp. (WYN).
Why buy CONSOL Energy (CNX)?
CONSOL Energy reported total revenue for 3Q 2013 up 6.1%, to $1.23 billion, above analyst estimates. It saw a net loss of $64 million, or a loss of $0.28 per diluted share, compared to a loss of $11 million, or $0.05 per diluted share in 3Q 2012.
Article continues below advertisement
Its gas division showed unit margin expansion, quarter-over-quarter, as the average sales price was nearly unchanged, while unit costs were lower, mostly due to higher volumes. Overall natural gas production was up 17%, quarter-over-quarter, aided by the 72% growth in the Marcellus Shale component. The company said the division is expected to not only meet its 2014 overall gas production guidance but also is on track to more than double its Marcellus Shale production in 2014, compared to 2013.
Coal and gas production results, which were announced on October 15, 2013, exceeded previous guidance provided in 2Q 2013. In the coal division, margins decreased primarily as a result of lower sale prices per ton, reflecting a decrease in the global metallurgical and thermal coal markets. Partially offsetting lower sales prices was approximately a 10% improvement in costs per ton. It expects 4Q 2013 coal sales in the range of 13.6 to 14.0 million tons, and full-year coal sales in the range of 57 to 57.4 million tons.
Article continues below advertisement
In 2Q 2013, CONSOL Energy stated it stepped up its asset sale process to include coal and gas transportation infrastructure, in order to capitalize on the current market environment and re-invest proceeds in higher-return projects. In October, it sold its Consolidation Coal Company (CCC) subsidiary, which contains all five of its long-wall coal mines in West Virginia, to Murray Energy Corporation for $4.4 billion.
CONSOL recently announced it has acquired the gas drilling rights to nearly 90,000 contiguous acres from Dominion Transmission, a unit of Dominion Resources. It said the transaction complements its already significant acreage position in northern West Virginia. It added that, as it accelerates its gas drilling in the next few years and continues to improve its efficiency through enhanced production techniques, this transaction is expected to provide more than 350 risked long lateral Marcellus Shale drilling locations. Noble Energy is CONSOL Energy's 50% joint venture partner in the Marcellus Shale.
In November, CONSOL declared a regular quarterly dividend of $0.125 per share, payable on December 4, 2013.
Article continues below advertisement
With lower natural gas prices leading to a decline in demand for coal, and regulatory uncertainty impacting the U.S. coal industry, the company's strategy is to shed its coal assets and concentrate more on natural gas production. It said it expects to enter 2014 with its focus of achieving gas growth production targets of 210 to 225 Bcfe for 2014 and 30% annual gas production growth in 2015 and 2016.
TPG-Axon Capital Management, the activist hedge fund firm, provides its services to high–net worth individuals, pension funds, and banking institutions. It manages limited partnerships for its clients. The firm invests in the public and private equity markets across the globe. It typically invests in healthcare, pharmaceuticals, financial services, technology, energy, and basic materials and retail.
Founder Dinakar Singh served as a co-head of the Principal Strategies Department at Goldman Sachs until early 2004. He became a Partner at Goldman Sachs in 1998. Prior to this, he spent four years in Hong Kong, establishing the proprietary investing effort in Asia. He serves on the President's Council on International Activities and is the Trustee of the Goldman Sachs Foundation. Singh has been a Trustee of Cold Spring Harbor Laboratory Inc. since November 2010. He is also the Founder and Chairman of the Spinal Muscular Atrophy Foundation. He graduated from Yale University in 1990.