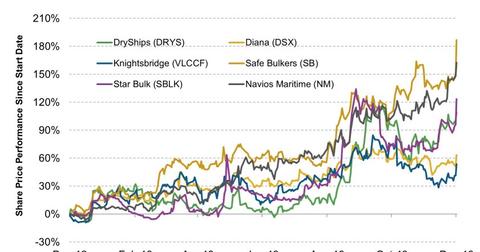 Morgan Stanley upgrades dry bulk and VLCC, SBLK, SB, DSX rally 10%
By Xun Yao Chen

Updated
Dry bulk shippers rally

Dry bulk shipping companies like Diana Shipping Inc. (DSX), Safe Bulkers Inc. (SB), Navios Maritime Holdings Inc. (NM), Knightsbridge Tankers Ltd. (VLCCF), and Star Bulk Carriers Corp. (SBLK) are rallying on Morgan Stanley's review claiming that shipping is at the start of a two-year rally. Shares have climbed over 8% for most of these firms.
Rates expected to rally
Rates are expected to rally on lower fleet growth and expectation that demand will expand at a faster pace than vessels in 2014, the first time in six years, according to New York–based analyst Fotis Giannakoulis in Bloomberg Businessweek. The analyst upgraded recommendation for the industry to "in-line" from "cautious." Morgan Stanley had put some companies like VLCCF, SB, SBLK, and DSX on overweight.
Upgrades
Other shipping analysts have also thrown out a more optimistic view for the industry, seeing an industry bottom. Rates will advance next year, led by a 53% rally for Panamax vessels hauling coal and iron ore, according to the averages of more than 50 analyst estimates compiled by Bloomberg News.
A year to play the cycle
Article continues below advertisement
Giannakoulis also says he sees a 12-to-18 month window to play the cycle. The industry's recovery will last two years, after which vessel supply will quicken again. China's economic expansion will slow to 7.5 this year, but its growth is enough to support rates while fleet growth is expected to decline to less than 5% in 2014 and lower than 4% in 2015. He estimates demand expansion of as much as 6.5% in 2014 and 5.5% in 2015, above what management gave during Diana's earnings call.
Additional info
Next week, we'll take a look at how analyst recommendations have changed over the past few years. In the meantime, if Giannakoulis and other analysts' predictions realize, 2014 may be another great year for dry bulk shippers. For investors who are interested in knowing more about the industry, continue to the next part in this series.